Every January 1st, a new round of artworks, pieces of literature, and other copywritten ideas, facts, and figures are released into the world, free of the figurative chains that bound their use. What's in the public domain, however, changes depending on what country you're in: for example, in Mexico an object can remain under copyright until 100 year's after the creator's death, while in many European countries, works are released from copyright only 70 years after the creator's death.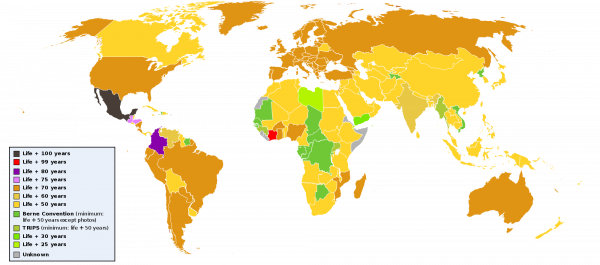 In the United States this year, however, no works will be entering into the public domain. While our law technically says that copyrights last for the life of the creator plus seventy years, it also has some complications, as explained on the Center for the Study of the Public Domain at Duke's website:
"In the United States, as in much of the world, copyright lasts for the author's lifetime, plus another 70 years. You might think, therefore, that works whose authors died in 1947 would be freely available on January 1, 2018. Sadly, no. When Congress changed the law, it applied the term extension retrospectively to existing works, and gave all in-copyright works published between 1923 and 1977 a term of 95 years. The result? None of those works will enter the public domain until 2019, and works from 1961, whose arrival we might otherwise be expecting January 1, 2018, will not enter the public domain until 2057. In addition to lengthening the term, Congress also changed the law so that every creative work is automatically copyrighted, even if the author does nothing."
While this law may seem good for artists, it imposes restrictions on the usage of copyrighted materials for libraries, archives, and educational institutions. It also means that while most European countries now consider works by Pierre Bonnard, Winston Churchill (the American novelist, not the British statesman), and Henry Ford to be in the public domain, the US still has to wait many years for these copyrights to be released.
See below for a shortlist of people whose works are, as of today, in the public domain.
In countries with the rule of life + 70 years:
—Artist Kathleen Scott (1878-1947)
—Playwright Wolfgang Borchert (1921-1947)
—Artist Pierre Bonnard (1867-1947)
—Novelist Marie Adelaide Belloc Lowndes (1868-1947)
—Artist Prudence Heward (1896-1947)
—Writer Hugh Lofting (1886-1947)
—Artist Han van Meegeren (1889-1947)
—Songwriter Walter Donaldson (1893-1947)
—Artist and poet Aleister Crowley (1875-1947)
—Economist Irving Fisher (1867-1947)
—Artist Tan Ting-pho (1895-1947)
In countries with the rule of life + 50 years:
—Artist René Magritte (1898-1967)
—Musician John Coltrane (1926-1967)
—Artist David Burliuk (1882-1967)
—Writer Margaret Ayer Barnes (1886-1967)
—Artist Jessie Traill (1881-1967)
—Cuban Revolution hero and author Che Guevara (1928-1967)
—Artist Johannes Itten (1888-1967)
—Writer Langston Hughes (1902-1967)
—Artist Edward Hopper (1882-1967)