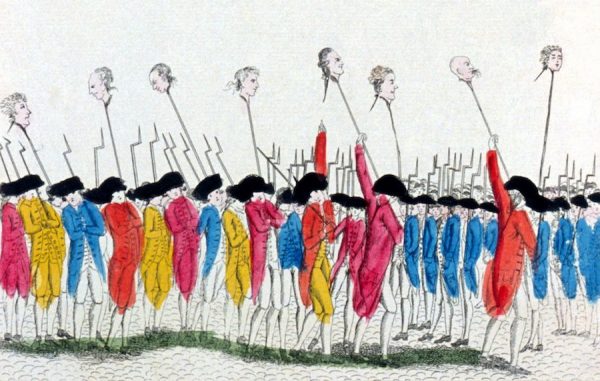 Rich people sure have been taking a lot of flak in the art world lately, haven't they? There's hardly an institutional exhibition, call for submissions or trendy non-profit show that doesn't explicitly or implicitly engage in some kind of class warfare. This kind of thing is bound up in identity, but at the end of the day modern revolutions are about inequality and wealth, and people of all kinds fall along the distribution of inequality.
For the last five years I've been lucky to be able to teach art to students all along the wealth-distribution scale. I've taught studio courses to professional people from the upper levels of capital income, to blue-collar and service workers in community college, to functionally illiterate high-school students in charter schools. I've come in contact with fellow teachers and artists, all of whom more or less belong to the same economic class as I do. And I've found people to like and dislike all along the way. There is no inherent virtue in being rich or in being poor. It depends on the individual. A jerk gives me a headache whether they're a spot-welder or a retired energy-sector executive.
So why are so many art types so mad at rich people? I think a large part of it surely has to do with cognitive incoherence brought on by overexposure to all the Robespierres in the social media "art world." On Monday some high-profile art type will post a photo of themselves on the lawn of the Menil Collection with all manner of hashtags relating to love and sunny days, while on Tuesday the same person calls for the dismantling of capitalism. 'Menil' isn't a made-up word. It's the family name of a group of rich people who decided to open their staggering art collection to the public free of charge.
Even the most radical among these types will post a Facebook status about a good show at the Museum of Fine Arts, Houston, followed days later by an explicit denunciation of rich people. All the names on that big engraved wall to the left of the headless Roman sculptures with tiny penises as you enter the Audrey Jones Beck building at the MFAH are those of rich people. Still others will post images of overheated Jenny Holzer texts about hungry babies and purifying fire while also sharing well-lit images of their tasteful paintings installed behind Eames chairs.
Look at the back of every non-profit and museum pamphlet you pick up, and you'll see acknowledgements to a small handful of very rich people. Rich people sit on the boards of museums and non-profits, and they're responsible for drumming up funds for these institutions' operating cost. Enormous endowments? Endowed by rich people. Art has never been disengaged from wealth. Poor people don't buy art, and they don't sit on boards of trustees.
The class warfare rhetoric among activist art types is hard to take seriously because it's so often hypocritical. Do a thought experiment: imagine the art world without rich people. It went dark, didn't it? Because without philanthropy and voluntary private market demand, both of which depend on inequality and large accumulations wealth, there is no art. There's only propaganda.
But for the so-called radical art types, the plain fact of philanthropic and market redistribution of wealth — from capital gains to museum endowments, public collections and private galleries — isn't enough. Ever the conspiracists, who likely distrust their own hearts most of all, these art types want to understand the motivations behind this redistribution.
Ironically, the answer they come up with most often — guilt — is actually something like the truth. It turns out having millions of dollars can make a person pretty self-conscious about how they spend their time and resources. Once you've bought the third house on the third continent and stocked the cellar with the most expensive wine on offer, the diminishing material and psychological utility of vast wealth generally tends to make a lot of rich people think about legacy, and the world they'll leave behind. Experienced as I am with government agencies of one kind or another, I think I'll take the philanthropy.
A few weeks ago I was talking to a Houston gallerist and I felt a little relieved when he told me that he views most of this rhetoric as stemming from frustrated artists who haven't been able to get their work into the places they'd like to. If that's true then it's the same old story — resentment and frustration with a more fervent cast. But I'm not so sure. Too many artists seem to have fallen in love with their own rage and indignation. In On Revolution, Hannah Arendt writes that "…rage is not only impotent by definition, it is the mode in which impotence becomes active in its final stage of despair." If this is true, an awful lot of the art world looks pretty flaccid right now.