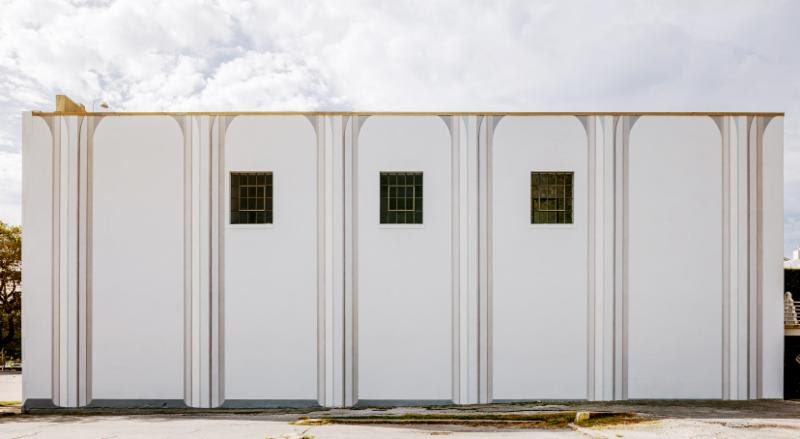 This Saturday, December 9 from 4-5:30 p.m. Lawndale Art Center in Houston will toast Francesca Fuchs and her new wall mural at Lawndale. There will be bubbly and beer and food trucks on site. This event is free and open to the public.
Lawndale has asked artists to cover its large exposed northeast facing wall with custom murals since 2011, and each mural remains up for a year. Recent past artists include Russell Etchen, Jonathan Leach, Otabenga Jones & Associates, and Daniel Anguilu. Via Lawndale:
"With a few stripes and shapes in beige, soft whites, and simple grays, Francesca Fuchs transforms Lawndale's blank north wall into the illusion of cathedral pillars, starting a conversation with the building's iconic Art Deco façade and suggesting a deeper consideration of the role that art spaces play in contemporary society."
The Houston-based Fuchs was born in London and grew up in Germany. She's been in Houston since attending the MFAH's Core Program in 1996. She's been shown extensively internationally, and she's currently Head of Painting at the Glassell School of Art, Museum of Fine Arts, Houston.
For more info, please go here.