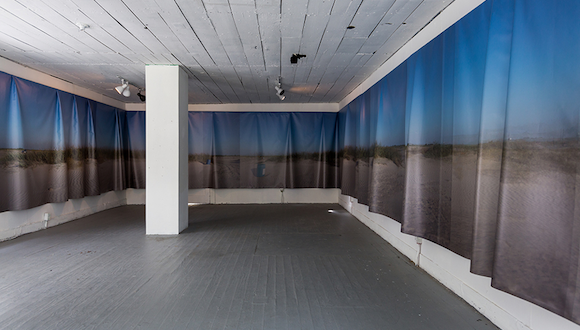 Race, feminism, history, and sand dunes?  It should all come together this Thursday, November 16, at 6pm.
In conjunction with Houston artist Regina Agu's current exhibition, Sea Change, at the Galveston Art Center (GAC), she will be speaking with Dr. Jens Figlus, assistant professor in the Department of Ocean Engineering at Texas A&M Galveston, about the research and collaboration between artist and scientist.
Agu has created an 80-foot panoramic photograph printed on billboard vinyl documenting a group of prototype sand dunes constructed from the sargassum that regularly washes up on Galveston's shores. According to GAC, "Using landscape photography, environmental research, and source texts including Jean Rhys' 1966 feminist novel Wide Sargasso Sea, Sea Change is a speculative commentary on climate change, the tourism industry, environmental justice, and interrelated economies."
Science geeks and art nerds (and those who are both)—head down to GAC.