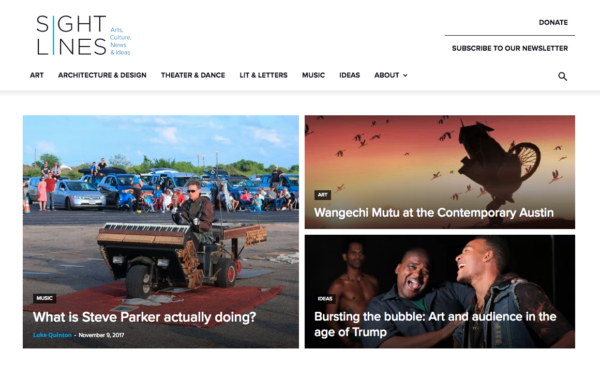 Austin-based writer and critic Jeanne Claire van Ryzin has announced the launch of Sightlines, a new online publication covering "arts, culture, news and ideas." Van Ryzin worked full-time as an arts reporter for the Austin American-Statesman for seventeen years — she was let go at the end of 2016, when the Statesman said she would be replaced by occasional freelance writers. Since then, she has written about exhibitions in Houston and Austin for Hyperallergic.
With Sightlines, van Ryzin aims to create a publication that will be accessible to both casual art enthusiasts and hardcore art fans. As for its mission, the Sightlines site reads in part:
As an online platform, Sightlines celebrates the internet's capacity, use its tools and enjoys its flexibility. But Sightlines believes that that proves, as nothing else has, that the medium is not the mesage. We won't confuse thoughtful cultural journalism with SEO-driven content, a never-ending stream of listicles or click-bait videos.
People today are cultural experience omnivores. So is Sightlines. We want to engage the curious general reader as well as the experienced culture monger. A democratic voice not only expands an audience for all culture, but unites it.
Though the publication will be based in Austin with van Ryzin at the helm as founder and editor-in-chief, its content will not be restricted to any geographic location. Currently, Sightlines is a sponsored project of Fractured Atlas, a non-profit arts service organization. The publication is awaiting approval of its independent 501c3 non-profit status. (Glasstire is also a non-profit 501c3 publication.)
For more information, and to see the site's current articles, visit: www.sightlinesmag.org.