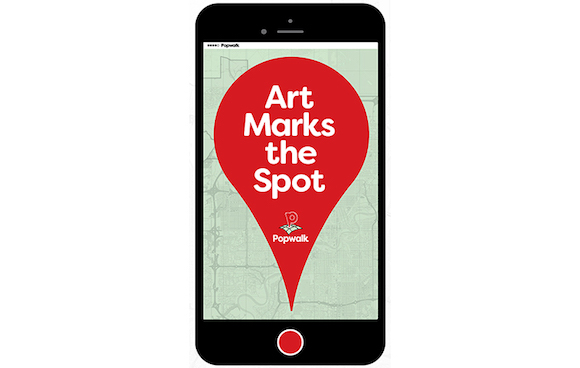 Earlier this year, David Lindsay, artist and art professor at Texas Tech in Lubbock, developed and launched a clever new smartphone app that allows artists to create site-specific works that play on your phone only at that location. The app is called "PopWalk," and through it artists can upload original content that puts a new spin on the idea of "site-specific." The art can be performance, animation, text, music — anything that can show up on a smart phone.
Artists everywhere are invited to submit work for Popwalk's "exhibition of site-specific digital art for the city of Houston, entitled Re:Houston."
Via Popwalk: "Re:Houston is an exhibition about rebuilding, remembering, rejuvenating, and reinventing Houston. In the wake of Hurricane Harvey, the whole world saw the resilience and sacrifice of Houston. As the city works on the difficult task of arising from that disaster Re:Houston gives artists from all over the globe an opportunity to commemorate those places within this great city that they love, remember those places that have been lost or changed, and celebrate the heroism of the individuals and the city itself."
Artists can make an artwork for any location within the boundaries of Popwalk's Houston map, and then users will discover the work by using the Popwalk app on their smart phone.
And here's a big bonus: "The Talkington College of Visual and Performing Arts at Texas Tech University has given $5000 in prize money for this exhibition. The specific award sizes are at the discretion of the jurors, but these awards will be reserved for works from artists who live in the areas that were affected by Hurricane Harvey."
The call opened at the beginning of November and will be open until May 1, 2018. Re:Houston will officially open in May, and works will be on show for a year.
For more info on Popwalk and how to apply, please go here.