Texas Tech University visiting professor Aaron Hegert, with artists Zachary Norman and Jason Lukas, opened Everything is Collective: A Concept is a Brick at the TTU Satellite Gallery during the October First Friday Art Trail. This is a nod to Deleuze and Guattari's A Thousand Plateaus: Capitalism and Schizophrenia:
"A concept is a brick. It can be used to build a courthouse of reason. Or it can thrown through the window." 
I'm not even going to unpack that reference as a whole. I'll narrow down the theme and guess that this show is dealing with problems of the Western world.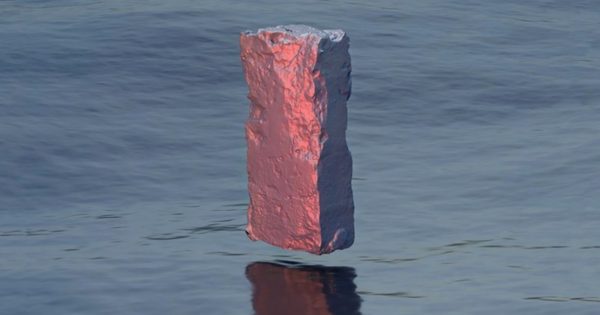 The three collaborating artists, under the name Everything is Collective (EIC), worked on photographic and digitally rendered… you guessed it, bricks, making and remaking the images through various textures and settings. This work is incredibly visually satisfying — even sexy. Each piece features a brick that appears to have been hit with the "James-Bond-opening-credits" filter. Silhouettes, oil, ice, chrome. The effect is total finish fetish with the added bonus of dramatic, movie-set backdrops.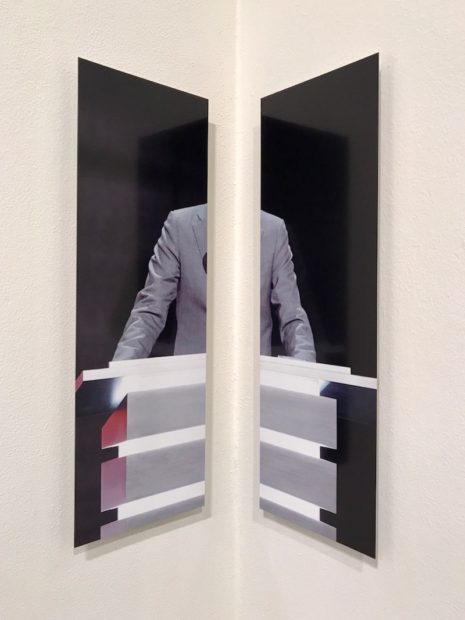 The one interrupter in the show is a strange corner piece of a man at a podium. Presumably he's the "Dr. No" in this metaphor. The exhibition title nailed it: the power of signs and symbols (semiotics, if you will) in this political moment. Whether it's a social-media ruckus over decorative wreaths or an artist's deft use of materials, we realize again and again that objects and images carry weight. (Sidebar: as in the Hobby Lobby cotton example, these signs and symbols can shift meaning and context until they become practically meaningless, or even worse, a cliché of Joanna Gaines, Pinterest-based decorating. For a great recent example of an artist using a material with historical heft, look to Kara Walker's The Sugar Sphinx.)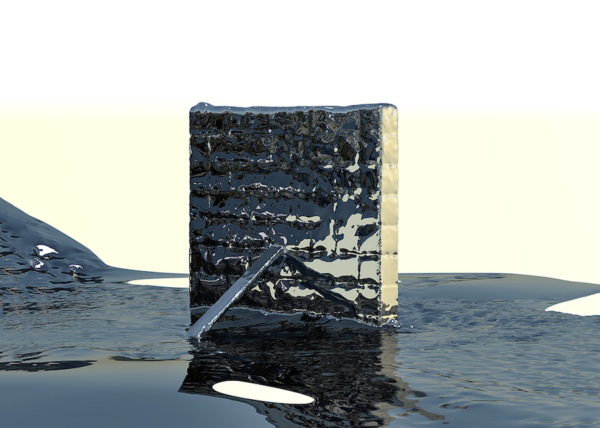 I'm inclined to give narrative to this body of work, even though the title cautions me. With titles like Rio Hondo Police Academy #3, are the bricks symbolic of the foundations of our law enforcement and justice systems? Rio Hondo College is two hours from the Mexico border. Are the bricks symbolic of a fetishized "wall"?  The proposed border wall exists in many places, and doesn't exist in others due to inhospitable landscape and politicians being (rightly) squeamish about enacting eminent domain. But the symbol of the wall and what it means — this is where the brick is currently of immense consequence.
So, are the bricks the words we hurl through windows, or in this case, screens? Slut. Racist. Criminal. Blunt and at the ready, aren't bricks also a foundation and insulating network? Activist. Educator. Friend. Indeed, a concept is a brick. At least these are something to see.
Exhibition is on view at The Texas Tech University Satellite Gallery at Charles Adams Studio Project (CASP) in downtown Lubbock, by appointment ([email protected]) and at the November First Friday Art Trail, Friday, Nov. 3, 2017. 
This article originally appeared in slightly different form on October 18 in The Bowerbird, an art blog in Lubbock, TX.