I realized that If I had to choose, I would rather have birds than airplanes.
Charles Lindbergh
It was strangely quiet.
Houston's Tropical Storm Allison in June 2001 was the third-highest in terms of rainfall in the U.S., behind the recent Hurricane Harvey. Back then, it took a day or two after Allison hit for people to finally notice that the city was weirdly silent (except for the occasional show-off generator). Because the birds had all left or died. It was really, strangely quiet for days.
On August 25 of this year, the category four Hurricane Harvey pushed out most of the birds in South Texas, especially in Rockport, where the storm squarely landed before it toned down and moved to Houston, hovering for days. Rockport, long a haven for serious birders, was devastated. The hurricane also ransacked the Rockport Center for the Arts (RCA), just as it was about to open the exhibition of Birds in Art. The exhibition, annually organized by the Leigh Yawkey Woodson Art Museum in Wisconsin since 1976, had previously been brought to town by the RCA in 2013. The show was so well-loved that local donors came forward immediately to ask that future Birds in Art exhibitions return to the bird-loving city of Rockport. Waiting in line for the popular touring exhibition, the RCA got a spot in this year's tour.
After securing artwork and getting his staff to evacuate, RCA Director Luis Purón left for Mexico for a few days to escape the storm. Even while in Mexico, though, Purón realized that Birds in Art should continue — that it was important and close to the heart of the community. Purón called the Director of the Art Museum of South Texas (AMST), in Corpus Christi, and asked for help. As Purón says, "I immediately reached out to Joe Schenk and he said 'yes' right away and for that, we are eternally grateful."
This sort of extreme generosity and extremely fast action is extremely rare among art institutions. For one, because non-profit and museum exhibition schedules are usually planned out far, far in advance; secondly, because art institutions can be possessive of their own programming and their own spaces. But Schenk moved quickly into action, although there was a time gap during which the exhibition could not be housed at RCA or AMST and had to temporarily move back to its home station in Wisconsin, causing additional shipping costs. Once again, donors helped out.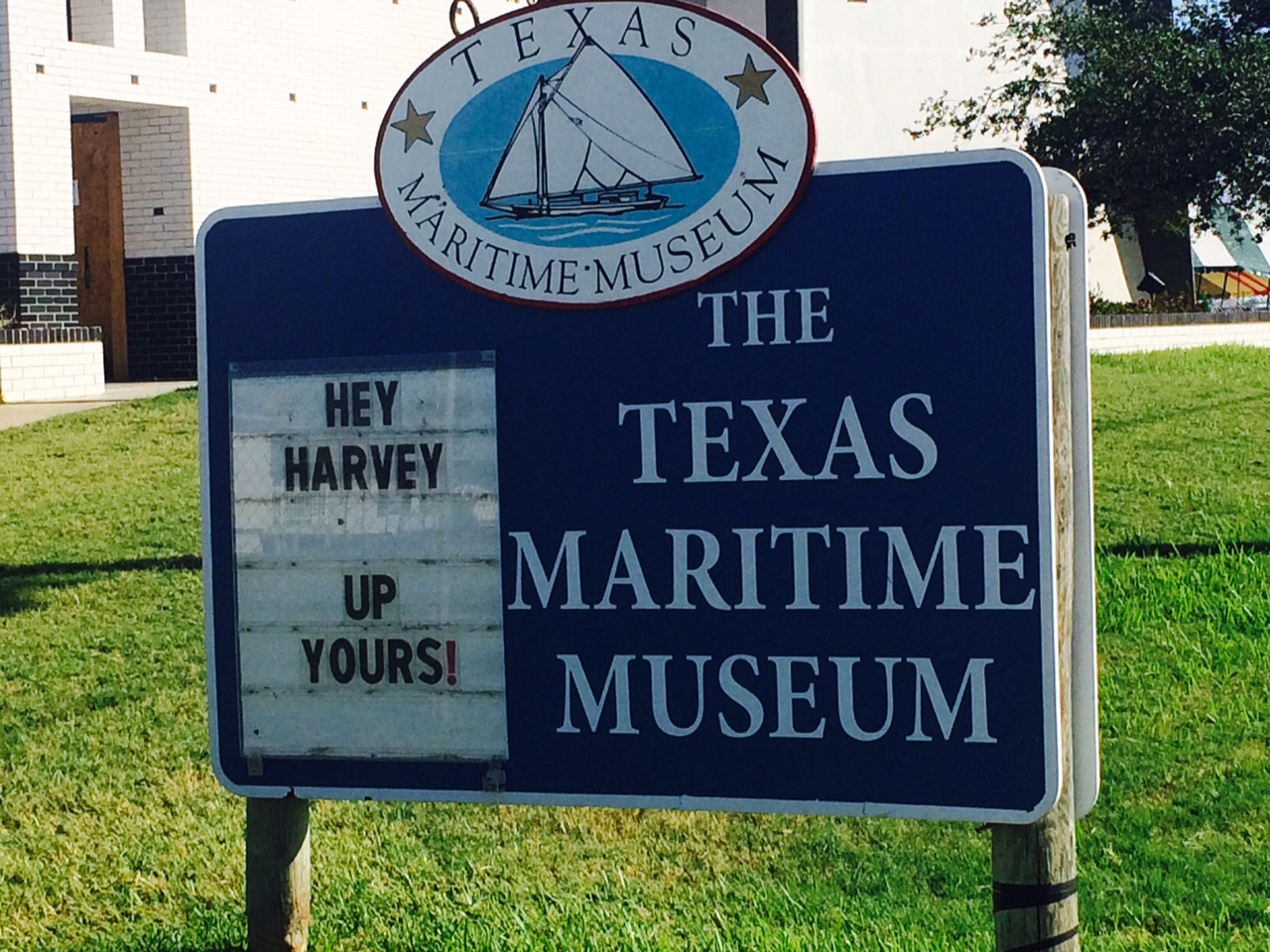 The show certainly has a distinct voice at the AMST; its larger gallery gives the birds some space. Because of the inherent realism of most avian art, first glance may seem like a special bird issue of Southwest Art magazine. But the fifty 2-D works and ten 3-D works are more than rainbow parrots and beach t-shirt art. Really, who can resist the attraction of John James Audubon-style ornithological/botanical drawings, paintings, and sculptures? No artist working in any medium can deny the incredible technical skill it takes to draw a tiny animal with a bunch of intricate feathers. Some seem fancy and flashy, some dignified, some melancholy, and some just seem to exist to remind us of our place in nature.
Of the sixty works, the show features three artists from Texas: Kent Ullberg (Corpus Christi), Jim Offeman (Missouri City) and Debbie Stevens (Cypress). There also a few pieces outside of the realm of the hyper-realistic avian paintings. Spanish artist Fran A. H. Alvarado's sculpture Athene noctua falls into that weird place Spanish artists can go — simultaneously serious and playful.
Chris Maynard's Dunlin Cloud (featured image at the top of this article) is an amazing 2-D work made from a turkey feather, cut with precision, that recreates those incredible moments when a flock of birds streak by harmoniously, twisting and turning, dispersing and contracting.
The RCA had recently bought some land nearby to expand its facilities and eventually build a new and larger museum. Those plans are now on hold, but the property includes a building where the RCA will relocate. (Rockportians will recognize it as the former glass brick "Winery on the Bay" location.)
RCA's neighbor Wind Way Gallery is already hosting art classes for the Center. Wind Way's Betty Shamel stated that they had recently re-roofed, added some new tiles and flooring, and that they had next to no damage. With Rockport still in aftershock, Shamel states, "If anything is going to help this city, it's the arts." Down the street, Estelle Stair Gallery seems to have had some roof damage, but a peek into the windows looks like they prepared, as work was placed high and covered in plastic. On the same block is the studio of husband and wife artists John and Jamie Speck who were also spared (although their home had damage). But the artists and gallerists know plenty of people who were not so lucky.
The Rockport mayor states that Hurricane Harvey destroyed about a third of the town, and that  it will probably never be rebuilt. But the birds are starting to return and beginning to make some noise.
Birds in Art will be on view at the Art Museum of South Texas through November 19, 2017.