One of the first concerts I ever attended was a day-long multi-band festival called Vans Warped Tour. For an innocent suburban middle schooler, the festival was shell shock; emo teens and hxc young adults from far and wide flocked to a dusty, gravel-covered parking lot in the dead of summer and braved dehydration, circle pits, and traveling musicians hawking their wares in order to see all of their favorite bands in one fell swoop. It was a far cry from the Styx and Weird Al concerts that had introduced me to live performances a year earlier. Everything at Warped Tour was on a whole other level — from the half-naked men and women to guitarists diving off stages to metalcore frontmen orchestrating the Wall of Death, I had no reference point for anything I was experiencing. I still feel sorry for my dad, who had tagged along at my mom's insistence.
This festival was also where I learned how tiring and exhilarating it is to be in the front row of a large concert crowd. I waited, at the request of a friend, through three bands in order to be stageside for Paramore, the day's headliner. Up to that point, I had deflected flying water bottles, aggressively pushed back against moshers slamming us into the metal barrier, and had not seen an entire act due to a flood of crowd surfers streaming over my head.
When I look at the images in Austin-based photographer Sandy Carson's series and new book We Were There, I'm taken right back to that first time, sweating in the front row of Warped Tour. Inverting his role as concert photographer, Carson goes into the photo pit and shoots the audience rather than the band, making us consider how audience members are themselves, in a way, performers. The give-and-take between audience and band really is a two-way street.
On first viewing, the photographs feel devoid of a heroic subject. When thinking of iconic concert images, certain tropes come to mind: a silhouetted figure onstage with a wide-set stance, an outstretched arm, and a melodramatic face pull, so you can tell they are really feeling the music. Carson's images are much more complicated because they're less controlled; concert lighting isn't designed to make the crowd photogenic, and audience members generally aren't thinking about their appearance because they're not in the spotlight. It's this quality that grounds Carson's images. His attendees aren't meant to be heroic — they're sweaty, crowded, and imperfect.
And yet, simultaneously, some of the photographs are so perfectly framed that they look like classical paintings. Shouting audience members echo the agape gaze of Caravaggio's Holofernes, and phones light up faces in a nod to the Baroque master's use of chiaroscuro. Carson's photographs aren't without precedent.
The relatability of the images is broadened by the sheer number of venues and types of people Carson has captured. Spanning ten years of work (2007 to 2017), Carson's series features photographs he took while on assignment at venues across Austin, including Emo's, Austin City Limits, Fun Fun Fun Fest, SXSW, Sound on Sound, and others. Some images are picturesque and docile: one photo from an Antemasque concert shows a woman and a grey-haired man in glowing light. Another from a Lionel Richie performance features two women looking longingly at the singer. Once you dig into each of these photos, however, you start to notice small details that break their placid first impression: in the background of the Richie photograph, one audience member is wrought with emotion as she holds up her cell phones to capture the experience, and another looks questioningly down at her 40-ounce can of Bud Light. In the Antemasque image, the man wears a poncho, hinting at the fickle tests of weather at outdoor festivals.
Other photographs from the series are immediately energetic and capture the feeling we so often associate with concerts. Carson's 2011 image of Odd Future at SXSW is emblematic in this regard — even if you don't know the growling voice of Tyler, The Creator or the group's controversial history, you can feel their music coming through the fans' aggressive gestures and expressions. So too is the 2015 photograph from a Metallica concert showing two young men, one who is emotively singing, and the other, who is flush and looks like he is moving to cover his ears. (You can tell it's a Metallica concert because nearly everyone in the image is wearing a Metallica t-shirt. Heavy metal seems like the only genre that doesn't treat wearing a band's shirt to their concert as a faux pas.)
Like so many photo series, We Were There is best viewed in book form. Images in Carson's book are laid out deliberately — some are cropped, others are at normal photograph ratios, and others are full bleed on the page in an effort to give the collection of images a cadence. The hardcover copy of We Were There easily lays open as any good photo book should, and the special edition includes a square 7-inch record featuring unreleased songs by the Black Angels and The Sword. Whether you're an avid concertgoer, or are just fascinated in peoples' incredibly varied responses to being in the presence of live music, this is a book for you.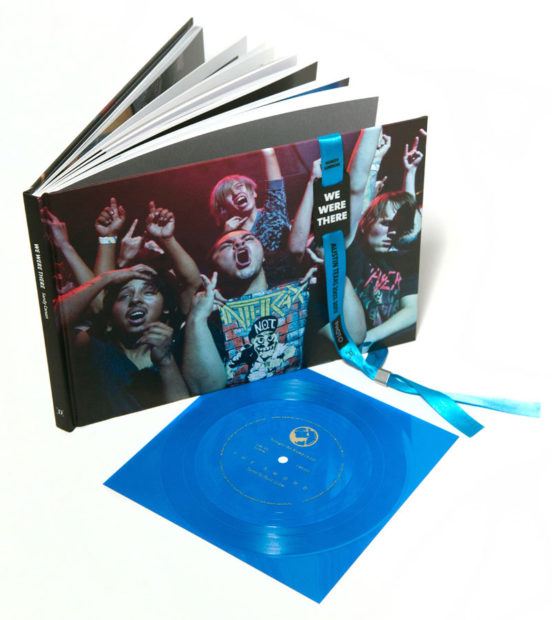 Sandy Carson's book "We Were There" was published by Daylight Books in September 2017. You can find it here. Carson's photo series "We Were There" has been shown at Lawndale Art Center in Houston and at Pump Project in Austin.