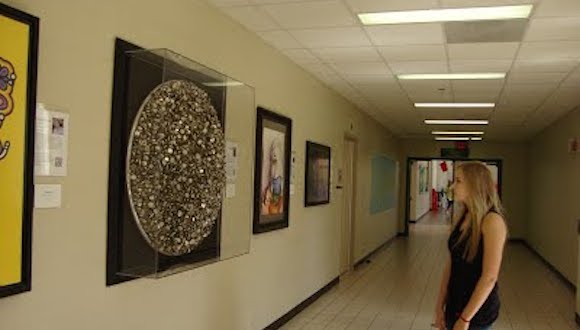 Since 2011, The Woodlands High School north of Houston has been building an art collection of works by local artists. Comprised of 34 paintings and 2D works, The Woodlands High School Art Trust is made up of artworks selected by students; the Student Art Trust Committee narrows submissions down to fifteen pieces which are then voted on by the school's approximately 4,400 students. The works that get the most votes are purchased using funds raised by the school's homecoming dance.
If you are a Texas artist and want your piece considered for the collection, here are the requirements:
– Artwork is limited to drawings, paintings, mixed media, printmaking, photography, and digital media.
– Artwork must be able to be installed with appropriate hardware.
– Artist must be a current resident of Texas, 18 years old or older.
– The application deadline is November 10, 2017.
If your piece is selected and purchased, it will hang in the halls of the school and be cared for by the Art Trust. The Art Trust's collection currently includes works by Marjon Aucoin, Kelsey Baker, Steve Basham, Karen Calhoun, Dandee "Warhol" Danao, Kelley Devine, Kaytee Esser, Valerie Fowler, Jenny Granberry, John Guiney, Carolyn Hancock, Charlie Hardwick, Stuart Hausmann, Carol Hayman, Sherry Hogan, Cindy James, Iwona Jankowski, Lauri Garcia Jones, Debra Latham, MaryAnn Lucas, James "JB" Manning, Vickie McMillan, Kia Neill, Kevin Peterson, Chancellor Roberts, Tamara Robertson, Todd Stevens, Theresa Thornhill, and Charles Wallis.