As we work to collect updates from visual art institutions affected by Hurricane Harvey, we have also heard from our friends in the performing arts. The news is not good. According to the Alley Theatre's Dennis Draper, the water in the theater's lower levels "was a little bit above [Tropical Storm] Allison." After that 2001 storm, the Alley had installed massive submarine doors below ground, but unfortunately the doors couldn't stop the water that poured in from the street, at levels previously unseen. This means that a 6,000-square foot small prop room was inundated, as was the lower-level Neuhaus Theater (where Glasstire held our talk between Catherine Opie and Eileen Myles earlier this spring).
A message on the Alley's website read, "Patrons may exchange their existing tickets for a future production at no additional charge, request a refund, or donate the value of the tickets to the Theatre… Artistic Director Gregory Boyd and Managing Director Dean Gladden will release further information about the season at a later date. The Alley Theatre's thoughts are with all Houstonians during this difficult time."
This video by Chase Boogie shows harrowing flooding in Houston's downtown theater district yesterday.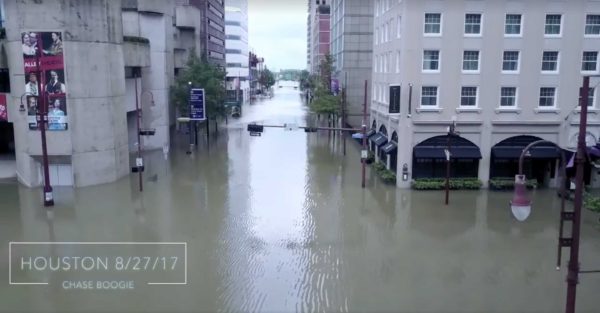 The Wortham Center and the Hobby Center both appear to have experienced massive flooding. The website slippedisc.com reports that Wortham Center has experienced basement flooding, with water entering both theaters. Houston Grand Opera, which performs at the Wortham Center, released a statement, confirming the damage to the basement and parking garage and vowing, "we will recover and deliver a fantastic season to our patrons, giving you all the art you need to heal from this calamity."
No word yet from Jones Hall, home of the Houston Symphony, but their lower levels took in water during Tropical Storm Allison.
As Draper said, "I'm dreading the idea of going through this again, but we've done it before… We've got staff members who have lost their homes. I've lost my car." Our thoughts go out to everyone who works in our theater scene
Our thoughts are with fellow Houstonians assessing the damage in their homes, businesses, and art spaces.