Ever since the Oxford Dictionaries proclaimed "selfie" the Word of the Year in 2013, numerous theories have been offered identifying the party guilty of inflicting the in-my-face-in-your-face image obsession on 21st-century global culture.
Some point to an anonymous drunken Australian. Others blame Bill Nye the Science Guy. Still others credit Paul McCartney with not only the selfie, but the photobomb as well. Hollywood cameraman Lester Wisbrod weighs in with the claim that he started sticking his own mug into snapshots with celebrities circa 1981.
Earlier this year, stories about a Boston photographer named Karl Baden noted his practice of taking a photograph of himself every day for the last 30 years. Facing each day's surrender to the process of photographic captivity with a somewhat dour countenance, Baden documents the process of aging inch by inch, moment by moment, one day to another.
Now comes Bill Leissner, a photographer currently based in Portland, Oregon and Internetting as Texas Bill, testifying to his own pioneering self-image making in the big fat state of Texas, circa 1980s.
"I started in the early Eighties," Leissner says. "My first selfie was taken in Denton and includes my friend Ron English, who is now a famous NYC artist."
After moving to Austin in the mid-'80s, Leissner "got really psyched up about the idea," eventually inserting himself into the frame of some 3,000 photographs. The series is titled bill & _____. "One thing that I found interesting about these shots was that by becoming a participant rather than an observer, people tended to really let down their guard and become less inhibited. Women would lick my face or strike funny poses… guys, too. Even reserved people would loosen up. The late Texas Governor Mark White and Jesse Jackson put their arms around me."
The Ramones, Willie Nelson, Carol Channing, Texas governor Ann Richards, legendary free-speech defender and McCarthyism survivor John Henry Faulk, and Terry Galloway, Esther's Follies star and author of the memoir, MEAN Little deaf Queer, all submitted to Texas Bill's often topsy-turvy selfies.
Even with Leissner's high-powered battery pack and motor drive that enabled him to rapidly flash blinding light into his subjects' eyes, Willie and others appearing with the pioneering selfie-shooter remained surprisingly tolerant and good-natured. "One exception was former Texas governor Bill Clements, who looked really creepy."
In contrast to Baden's controlled and somewhat bleak and repetitive expressions, many of Leissner's self-portraits-with-other-humans seem as though snapped while riding a hurricane. Leissner and his subjects almost appear to defy gravity, swirling and swimming in a photographic mosh pit of now-distant time. Shooting for ten hours a day in many cases, the photographer reads as intoxicated with making the image — as though he will be unable to draw another breath if he doesn't capture the person(s) with whom he is wrestling, floating, loving, laughing, screaming into the abyss, desperately marking those moments when we were there. We lived.
Also, the selfies are often funny as hell. Check out his "we're doomed" stare in the image with his mother howling at the moon; I also love the one with an older man in a gimme cap, looking as though he is about to realize he'd wandered into the wrong elevator… .
In a process that almost seems akin to an archeological dig, the photographer recently began scanning and posting on social media his selfies and other images of Austin's music and arts scene in a giant trove from the '80s. "My favorite part of this," he notes, "is how you people explode out of the woodwork."
Leissner credits Austin photographer Mark Goodman with "planting the idea that this work actually qualified as art." The two met when Leissner enrolled in undergraduate photography classes Goodman taught at the University of Texas. At the first critique, Leissner showed pictures of patterns.
"I told him those pictures might be something along the lines of wallpaper and, certainly, they couldn't possibly be his pictures," Goodman recalls. "Instead of 'setting him off,' this seemed to set him free. Bill began to define himself as a photographer — wherever and everywhere he went — in photographs filled with intention, off the cuff humor, and an attitude of 'what the hell might this turn out to look like?'
"In Bill's photos that included himself he wasn't embodying a stereotypical character (like Cindy Sherman's Untitled Film Stills), or the shadow, reflection, and changing self, mirrored in a scene (like Lee Friedlander's Self-Portrait) — both books seen and talked about more than once in my classes. Bill's 'selfies' were taken at arm's length, with fierce energy, and a breathless clicking of the shutter, as if snapping fingers in time to some quirky beat inside his head."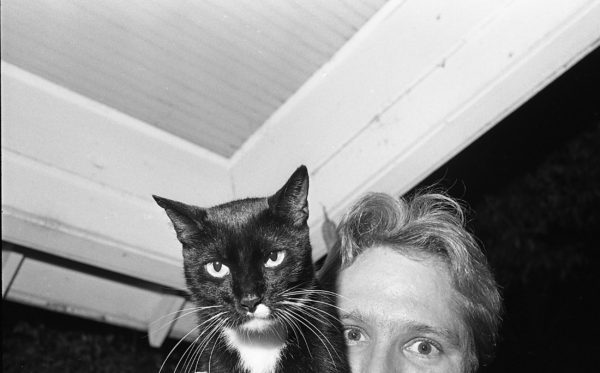 Leissner's own perspective on the series might soften the hardened attitudes of those who've grown weary of the hey-look-it's-me mania. "After you've seen enough of my selfies, I become redundant and blurry, like telephone poles by the highway," he explains. "Eventually, I become the blank, which forces you to focus on the other people. These pictures are about them. I'm just a generic sidekick."
All photos courtesy Bill Leissner.