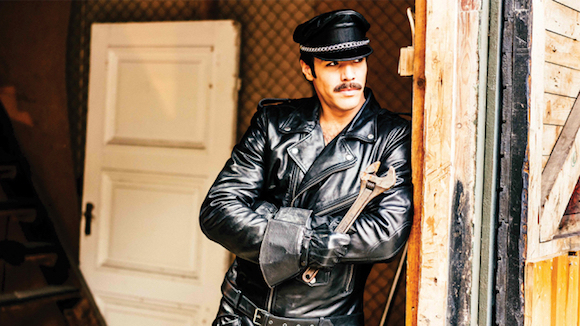 Really looking forward to seeing this.
Touko Valio Laaksonen (1920-1991) made a name for himself as Tom of Finland, the Helsinki-based homoerotic illustrator who pioneered so much of our post-WWII queer imagery: Leather daddies, cowboys, sailors, construction workers. His men are hyper-masculine, kinky, playful, and over Tom of Finland's prolific career, increasingly photorealistic. The illustrations sit somewhere between porn and art (Mapplethorpe was certainly influenced by Tom), and his pictures showed up in "homoerotic physique magazines" starting in the 1950s. His work is instantly identifiable — especially to wider audiences once Taschen published its first book on him on 1998 — and his influence is profound, despite the censorship, oppression, and persecution of homosexuals throughout Laaksonen's lifetime.
The biopic movie about Tom of Finland is already out, though not on Texas screens yet. It's been in development since 2013, was directed by Dome Karukoski and written by Aleksi Bardy, and debuted at the Gothenberg Film Festival earlier this year to strong reviews. Read about it here (it sounds pretty straightforward and very respectful), and watch a couple of trailers below.
This one is more substantial:
This one briefer, more dramatic, and all visual: