There is 30 square feet of retail space for every one of the three hundred and thirty million or so people in the United States. And almost all of it is extremely shitty. Endless beige strips baking in merciless suburban heat. Dying malls filled with Dippin' Dots booths and sword shops that sell, like, replica "Valerian Steel" blades from Game of Thrones for three hundred dollars a piece. Massive mazes of big box stores with sad, tiny smoothie shops smashed between them like blades of grass between concrete. What will become of all these spaces? Brick-and-mortar retail is dying, and the spaces themselves are mainly made from the cheapest materials in the ugliest, most efficient style, destined to scale and husk.
Houston personifies both the grim reality of sprawl retail and its possible salvation. Take the suburb of Sugarland. It is a place where, because it's the residence of my ex-wife's family, I have spent about 9000% more time than I would've liked. A place where, each year you visit it, you have to drive a bit farther to the grocery store: the old one closed — it's sitting vacant and shuttered. The new one a few miles up the road is way bigger and has a bank and a salon and an urgent care facility in it. In Sugarland, some strip complexes only have two businesses left in them: 1) a horrific all-you-can-eat buffet filled with a grotesque vision of cuisines of the world, as if an eighth-grader got to decide what counts as Italian and Japanese, and 2) a dialysis center, presumably necessary for regular customers of 1. If it sounds like I am being elitist and judgmental, just consider that there is no reason suburbs and sprawl have to suck. They just almost all do.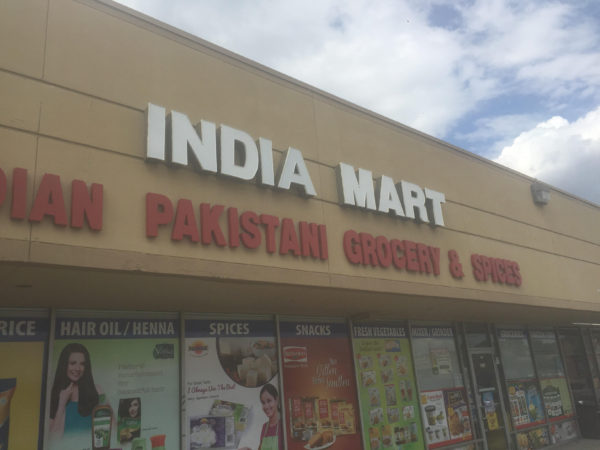 The Mahatma Gandhi District in Houston is an oasis-like exception. Nestled between two freeways across a couple blocks on Hillcroft, "Little India" is… well, ridiculously awesome. You can spend an entire afternoon here having a blast, having an Aryurvedic Kerala massage, getting a mango shake, buying Bollywood incense and chutneys at the Indian grocery store and Bollywood CDs from a video store, having a beer and samosas at an empty, highly air-conditioned bar, and concluding with the best kabobs you can get outside of London or Asia. After spending a few hours in Little India, I realized that it was a far, far more fun, interesting and satisfying time than some gentrified hipster neighborhood like South Congress in Austin.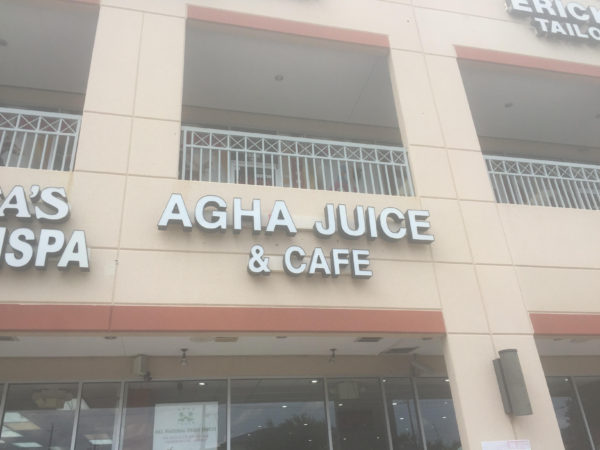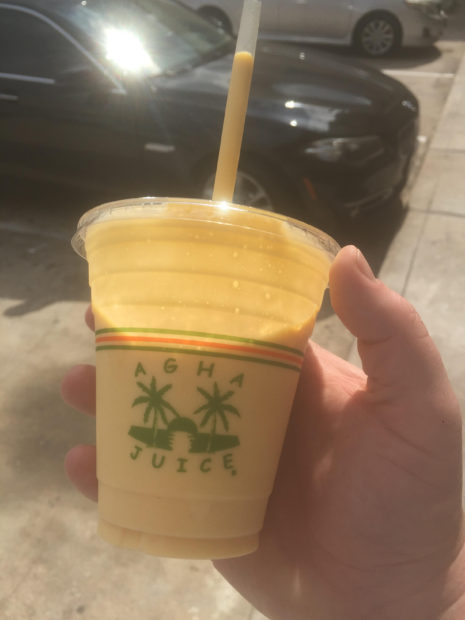 My first stop was at the Pakistani Agha Juice and Café, a mini-chain with a few locations in Houston and Dallas. Sweets are the reliable vice of the sober, and practicing a religion of temperance for 1200 years longer than Mormons has given Muslims a considerable advantage in the quality of their sober sweets. Whereas Mormons in Utah literally have soda shops that infuse giant Mountain Dews with half-and-half and sno-cone syrups to make them "dirty," Agha has Kulfi (Indian-Pakistani dense "ice milk" ice cream), Faloodas — an elaborate Pakistani dessert involving rice noodles, rose water, Jello, and ice cream — and an array of shakes and smoothies. I opted for the simple mango shake (whole milk and fresh mangos, blended) and it was absolutely delicious and cooling on one of those standard Houston days where the city feels like the kitchen of a Little Caesar's Pizza. I also appreciated Agha's clean, breezy branding of twin palm trees over an oasis.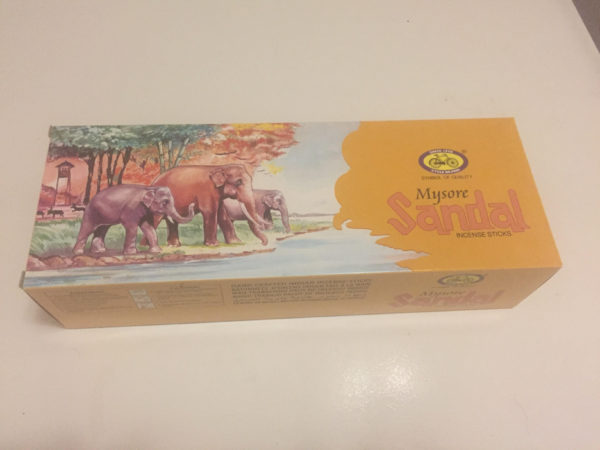 Next, I stopped by India Mart, a densely packed grocery store filled with an impressive variety of paneers, chutneys, spices, teas, and snacks. Though I like to cook, I don't do it very often because cooking alone, for one, feels like the opening montage to a sad movie starring James Gandolfini as a divorced dad. Instead I just picked up a huge box of Mysore Sandal Incense for $2.99. It's not real sandalwood incense, which has become quite pricey ever since too many white people started buying it up for expensive meditation retreats and almost all the sandalwood trees are gone, but this stuff still has a nice, light perfume. I've come to accept that I'm just one of those incense white guys now — I appreciate the Asian innovation of aromatherapy. Setting the fragrance of your surroundings sets the mood of your life, instead of barely holding it together while the fumes of the thresher outside waft in through your windows.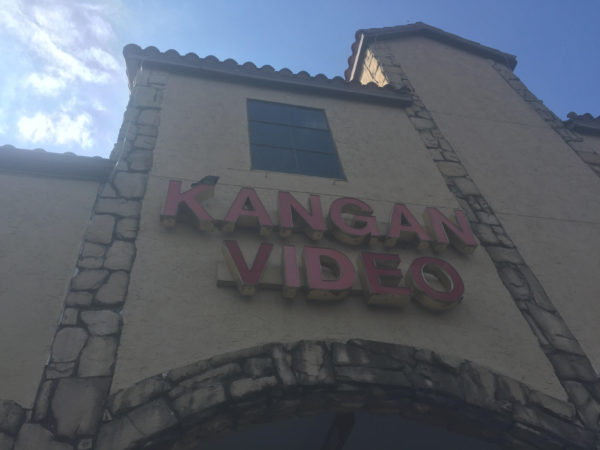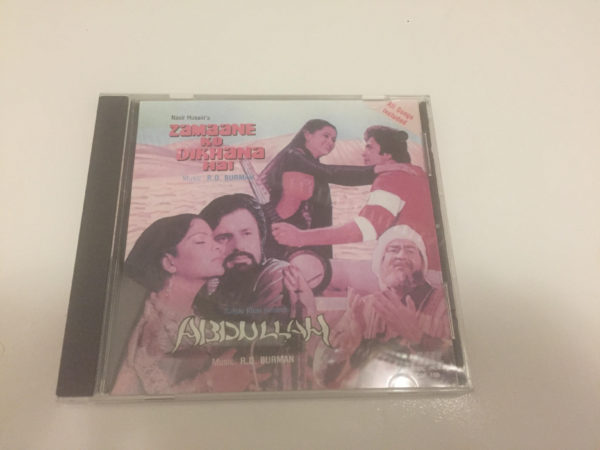 I moved on to Kangan Video, a Bollywood video shop that also carries CDs. There I picked an R.D. Burman soundtrack to the 1980 semi-flop Abdullah, because R.D. Burman is my favorite (and arguably the greatest) Bollywood composer and I hadn't heard this particular score. Turns out, it's easily one of the best, incorporating synths and disco into an effortless funky and psychedelic glide. Listening to the album on repeat the past few days, I keep thinking back to the employee at Kangan casually mentioning that if I liked that album, he could make me an MP3 cd with 85 songs like it for 15 dollars. Sometimes, in a world of endless, self-directed access, the offer of curation by another stands out like a spire in a desert.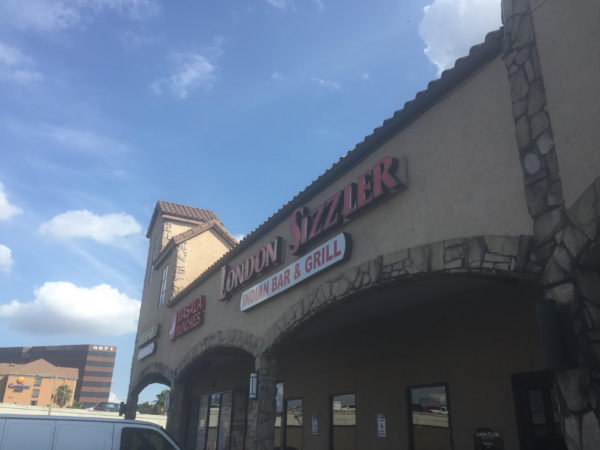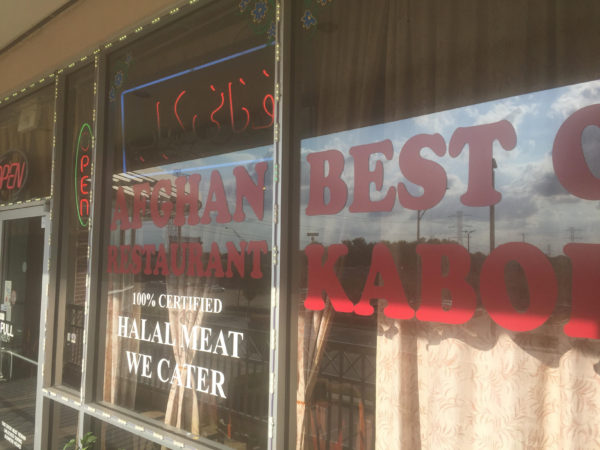 Finally, after a quick beer at The London Sizzler, a sort of sports bar you would find in Mumbai, I had dinner at Saffron Kabob House, a modest Afghan restaurant on the second floor of a strip complex. The spicy beef kabob was a perfect dish, and simple in the profundity of its legacy.
Driving home, I thought about how relentlessly fun the afternoon had been. About how hard many of the business owners must work, sleeping in their own stores, hardly seeing family. About all the dying suburban strips emptying out, left to brittle and collapse. I say, give the people the retail space that is rightfully theirs. All around me, I see an economy bleakly trudging forward like a death march, with no signs of relief or remedy. For measuring the economy, the Dow Jones is inadequate. I prefer the Dishwasher Index (DI): the level of desperation and grimness of the lives of the dishwashers in the restaurants one frequents. I can say with direct knowledge that the DI is not great, despite the rosy job reports.
I say, take the detritus of capitalism's rapacity and give it to those who are atomized by multiple "gig" economy jobs or cordoned off by redlining and segregation. Give it to immigrants increasingly persecuted by a white nationalist government. Imagine if, instead of beige skeletons pocked by drug testing labs and plasma donation centers, our strips were suddenly filled with anarchist bookshops and seed shops. Imagine if suburban commercial sprawl, instead of being the physical toll of late capitalism, became like Little India — charged with the electricity of community.