The Arts District Houston is a state-recognized cultural district in Houston and home to several converted warehouse studio buildings consisting of more than 300 studios of artists and creative entrepreneurs, as well as vast amounts of exhibition and event space. Because of this unique congregation of creative space, the Arts District boasts one of the highest concentrations of working artists in the United States. Check out the Fresh Arts team's favorite district spots for the ultimate arts immersion weekend in the Bayou City.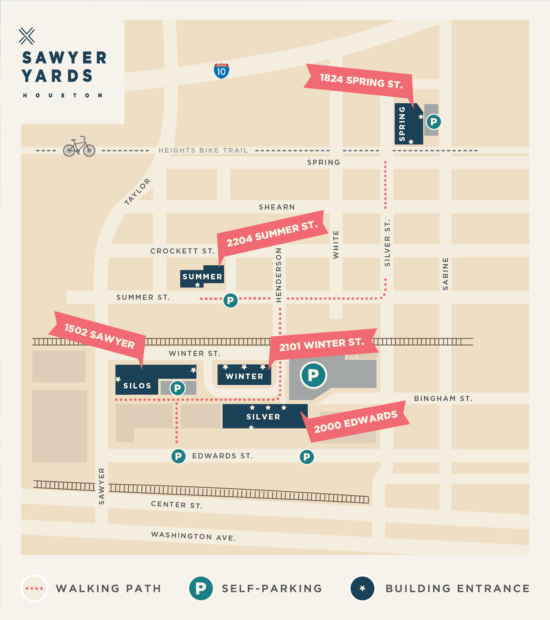 Friday, 6 p.m. – Check into your favorite Houston hotel. There are many options for accommodations conveniently located near the Arts District Houston, including the Omni on Riverway and the JW Marriott Downtown.
The Omni on Riverway features the work of local artist David Adickes throughout the hotel, while the JW Marriott is across from the Art Blocks and also features local artists' work throughout the building.
Friday, 7 p.m. – Head over to the Arts District Houston for dinner at Stanton's City Bites and try one of Houston's best burgers. Stanton's menu includes original, turkey and veggie burgers.
Friday, 8 p.m. – Now it's time for drinks at Julep, where you can sip on crafted cocktails, spirits and wine from former Pass & Provisions chef Adam Garcia. This old-school restaurant is housed in an industrial 1880's uniform factory, which features a stunning copper bar and a beautiful outdoor patio.
Follow drinks with a show at any of these Arts District Houston theaters:
Mildred's Umbrella Theater Company is known for pushing the theatrical envelope by bringing edgy new work to Houston. The company features the work of female playwrights, actors and directors. This fall (October 19 – November 4), Mildred's Umbrella Theater presents Feathers and Teeth, a home-sweet-home story with a haunted-house twist
For up-close-and-personal performances, you can visit 4th Wall Theatre Company, a non-profit organization developing and supporting theatrical artists in Houston. It has two remaining performances this year: Disgraced (a Houston premiere) from September 7 – September 30, and Reckless from November 30 – December 16.
For comedy, visit Houston's premiere independent comedy performance space Station Theater for long-form improv, sketch and stand-up comedy shows. Station Theater offers a full lineup of intelligent and irreverent comedy shows every Thursday through Saturday and produces the annual Trill Comedy Festival in October.
Saturday, 10:00 a.m. – Check out some of the Arts District's most popular brunch spots, Urban Eats and B&B Butchers and Restaurant.
Urban Eats' offerings are crafted in-house and procured locally with three options for the Houston diner: a full-service bistro and bar, a fast-casual restaurant, and a grab-and-go urban market. Not only does Urban Eats have a true passion for food, but it also showcases a passion for local art by offering local artists a three-month exhibition on-site and an opening-night reception. Work is for sale, with 100% of proceeds going directly to the artist.
B&B Butchers and Restaurant combines an elegant steakhouse, a neighborhood butcher shop, and a stunning roof patio overlooking downtown Houston. It's become a Houston favorite.
Saturday, 11:30 a.m. – Head over to the creative campus of Sawyer Yards. It includes 40 acres of industrial warehouses near Downtown, and is densely occupied with art studios, galleries, restaurants, fitness concepts, breweries, a public art plaza and art wall murals. (Specifically, you'll want to check out the art wall mural next to The Silos, the Art Wall at Art Alley, because it's the perfect spot for photo ops.)
On the second Saturday of each month, Sawyer Yards hosts Second Saturdays. The event brings together the 400+ artists of The Silos, Silver Street, Summer Street, Spring Street and Winter Street to open their studios to the public from 12-7 p.m. Spend the afternoon wandering through these five repurposed warehouses and discover an extensive selection of paintings, sculptures, jewelry, photography, clothing, textiles, printmaking and mixed media while enjoying cocktails and lite bites.
If your arts immersion weekend doesn't fall on the second Saturday of the month, you can still visit Sawyer Yards to find the art murals, as well as visit the buildings' rotating exhibitions in the hallways and the changing exhibitions at Tank Space located in Spring Street Studios. Each studio has its own business hours so make sure to check out the times before visiting.
Saturday, 1:00 p.m. – Grab a late lunch at Paper Co. Café for fresh food and in-house roasted coffee. Paper Co. donates profits to provide good meals for the homeless community in Houston.
Saturday, 2:30 p.m. – After lunch, it's time to check out nearby attractions including the Art Car Museum and Glenwood Cemetery.
Saturday, 4:30 p.m. – For an afternoon pick-me-up, head over to Cafeza for churros and coffee, or Catalina Coffee Shop for one of the best cups of espresso in the city.
Saturday, 6 p.m. – Dinner at Café Brussels for authentic and Houston-inspired Belgian food with a huge selection of Belgian beers.
Saturday, 7-9 p.m. – End your evening with a pub crawl of local beers and breweries in the Arts District. We recommend Holler Brewing, Platypus, Henderson Heights and Beer Market Co.
Or you can participate in a theatrical escape room with Strange Bird Immersive.
Sunday, 10 a.m. – Enjoy breakfast at Houston's favorite source of comfort food since 1950, Avenue Grill.
Before you leave! – Before heading out of town, we recommend visiting the websites of Silver Street Studios, Multicultural Education and Counseling through the Arts (MECA) and Fotofest to see if they have any last-minute exhibits you'd like to catch before hitting the road. Coming up in October, MECA hosts its "Day of the Dead Festival" and Fotofest has an ongoing exhibition program.
Fresh Arts, located in the Sawyer Yards Campus, is a local non-profit organization that builds meaningful connections between artists, arts organizations and patrons to bolster Houston's thriving arts scene. Fresh Arts provides services in the arenas of professional development training, resource aggregation, community building, and audience development.
Note: The Arts District Houston was previously named Washington Avenue Arts District.