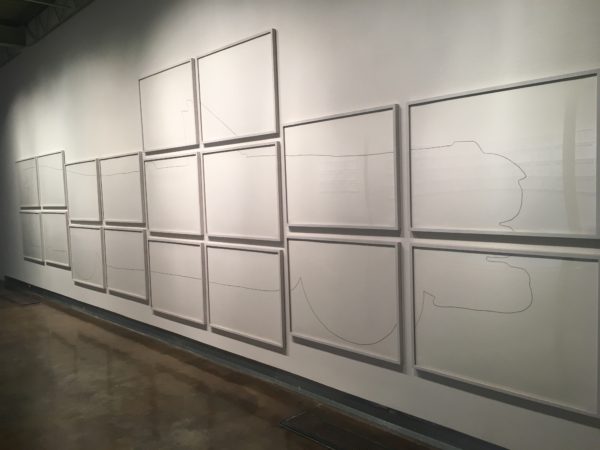 Hills Snyder's current solo exhibition at Louise Hopkins Underwood Center for the Arts (LHUCA) in Lubbock includes a big 1992 piece titled How Big is Your Love?; it's a multi-panel, to-scale outline silhouette drawing of a 1959 Cadillac. It pays homage to Buddy Holly's classic 1957 tune Not Fade Away (as in, "My love's bigger than a… ." The panels are framed and spaced two inches apart.) Snyder, a Lubbock native based in San Antonio, decided to include it in the show in a nod to his Panhandle roots.
This week it was announced that the piece had been acquired by the Museum of Texas Tech University for its permanent collection.
Peter S. Briggs, the museum's curator, states:
"I first met Hills at a breakfast cafe in Lubbock perhaps seven or eight years ago, a few years after I moved to Lubbock. I was interested in contemporary artists who had some connection to Lubbock and he stood out. I tried to acquire one of his installations for the Museum of Texas Tech's collection but I couldn't generate the funds. At that time I also contemplated (and never forgot) his drawing, 'How Big Is Your Love?' (1992). …Hills generously asked us to come down on the Sunday… to see his now-installed exhibition. We did. And there on the east wall was 'How Big Is Your Love?,' all 18 panels, stretching over some 23 feet of the gallery's east wall… a life-size-plus drawing of a Cadillac. At the same time in the Texas Tech Museum we had on exhibit a 1957 pink Cadillac Series '62 Coupe de Ville with a white top… the actual car. Hills' drawing of the 1959 Cadillac convertible seemed like a necessary companion and counterpoint. It's like two siblings were split up as youngsters and finally got together some fifty-five years later… a homecoming. Something Lubbock needed."
In the meantime, Snyder's art-and-text travelogue series Altered States is ongoing here, on Glasstire.