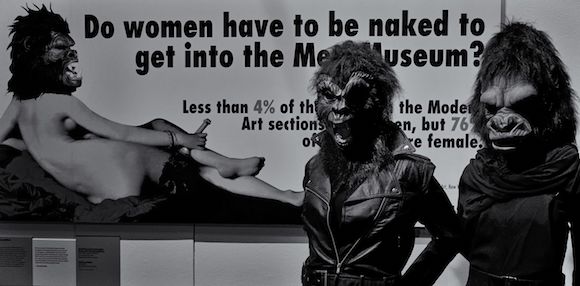 In conjunction with the Dallas Museum of Art's current sweeping print show Visions of America: Three Centuries of Prints from the National Gallery of Art, the museum will host the Guerrilla Girls' 'Käthe Kollwitz' for its Late Night Talk on Friday, August 18, at 7:00 p.m. in the Horchow Auditorium. She'll be on hand "for a discussion about the group's work and how you can use humor and facts to expose inequity."
Since 1985, the anonymous masked Guerrilla Girls, an invitation-only group of women artists, have used prints, posters, billboards, and other print-format media as vehicles for its feminist protest art, including its iconic 1986 message "Do women have to be naked to get into the Met Museum?" In the past several years, there's been a resurgence in interest in past and current Guerrilla Girls' work, due to the current political climate, the interest in 1980s and '90s iconography and political art, and the re-evaluation of women's art work in the historical cannon. Some of the Guerrilla Girls' prints are on view in the DMA's current show.
Again, the talk is on Friday, August 18, at 7:00 p.m. in the Horchow Auditorium at the DMA. Go here for more info.