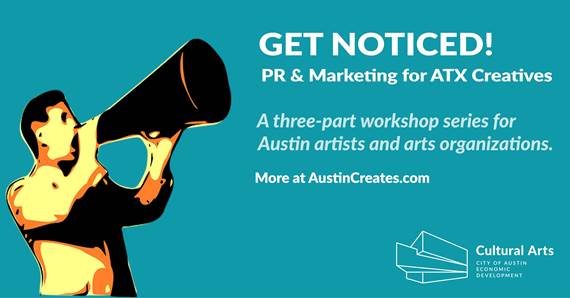 The City of Austin Cultural Arts Division has announced an upcoming workshop for artists called GET NOTICED! PR & Marketing for ATX Creatives, which takes place in three parts in three different venues on August 2, September 5, and October 4. This is following a recommendation in the Austin Music & Creative Ecosystem Omnibus Resolution "to more fully support and sustain Austin's arts community… Each workshop will provide local artists and arts organizations essential public relations and marketing strategies to help them promote their projects and engage more successfully with their constituents."
The schedule:
Workshop #1 – PR and Marketing for the Arts, Wednesday, August 2 / 12:00-1:00 p.m. at the Mexican-American Cultural Center (MACC). Led by Kathleen Stimpert (PR and Marketing Specialist for the Cultural Arts Division) and Krissi Reeves (City of Austin Arts Commission and Vox Solid Communications), the workshop will cover:
·         Public relations vs marketing (overview and definitions)
·         Creating messaging and branding 
·         Writing press releases and pitches
·         Media relations 
·         Community Calendar listings 
·         Cross promotion, community engagement, and scene building
·         Social media marketing (basic overview)
Workshop #2 – Social Media Marketing & Audience Engagement, Tuesday, September 5 / 6- 7 p.m. at the Dougherty Arts Center Theatre. Led by by Alie Cline, Engagement Editor for Texas Monthly. The workshop will cover:
·         Social media basics (which channels are right for you?)
·         Facebook Events
·         Creating engaging content—not just one-way promotions
·         Building online audiences
·         Understanding analytics
·         Facebook ads and social media marketing
Workshop #3 – Arts Media Roundtable, October 4 /6 – 7 p.m. at the Boyd Vance Theatre at the Carver Museum. This is a panel made up of Jeanne Claire van Ryzin (freelance arts writer and former arts reporter for the Austin American-Statesman), Michael Lee, (KUT), Robert Faires (Austin Chronicle), and Nicole Raney (CultureMap). They'll be discussing "the best ways to interact with the media and utilize media outlets to support the success of their projects."
For more info, please go here.