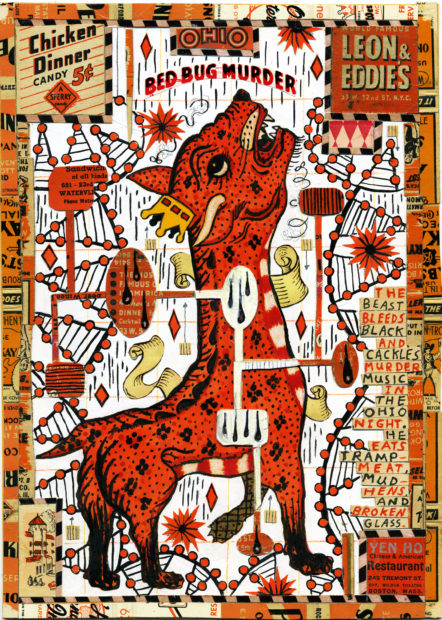 Chicago-based artist Tony Fitzpatrick has earned a living as a boxer, bartender, construction worker and actor, among other things. These pursuits have undoubtedly shaped his artistic practice; his work feels like the visual equivalent of a Tom Waits record. His prints, drawings, and collages are both a reproach and celebration of city life, a compelling look at the gritty underbelly of Chicago, Los Angeles and other urban centers. Tony Fitzpatrick: Lunch Drawings, The Avenue of the American Stories, an exhibition of twelve dazzling collage drawings at the Bale Creek Allen Gallery in Austin, furthers the artist's exploration of street culture and makes plain why his work is included in the collections of MoMA, the MCA Chicago, and the National Museum of American Art in Washington D.C. His vision is singular and his works rewarding.
For years, Fitzpatrick enjoyed success as a printmaker, but in the late 1990s he began dabbling with collage. After receiving boxes of his father's belongings—filled with dry cleaning tags, gambling receipts, matchbooks and other detritus—Fitzpatrick created his first collage drawings. Theirs was a complicated relationship, and the compositions were deeply personal tributes to his father. They also opened the door to the medium that would alter Fitzpatrick's trajectory as an artist.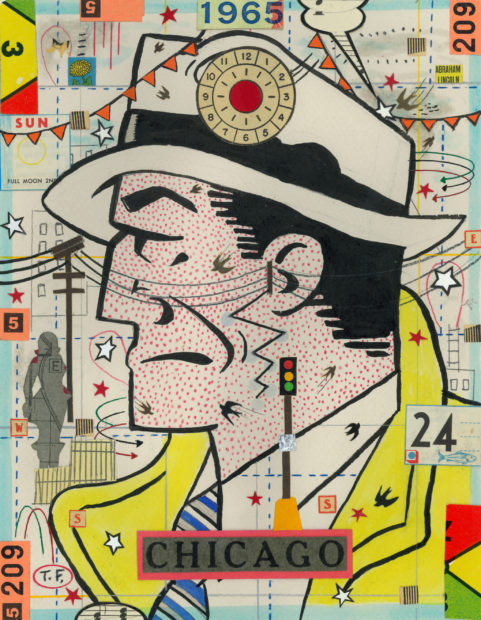 Fitzpatrick's collages are so detailed and complex it's hard to know exactly where they begin or end. Though all are anchored by a central figure or object—Dick Tracy, a horse, an otherworldly beast—the background of each composition is a frenzied whirlwind of texts, snippets of sheet music, advertisements, and drawings of assorted oddities. These float across the page in an untethered cadence. Viewers are drawn in through layer upon layer of narrative and color juxtapositions of every imaginable combination. These works are small but pack a mighty punch.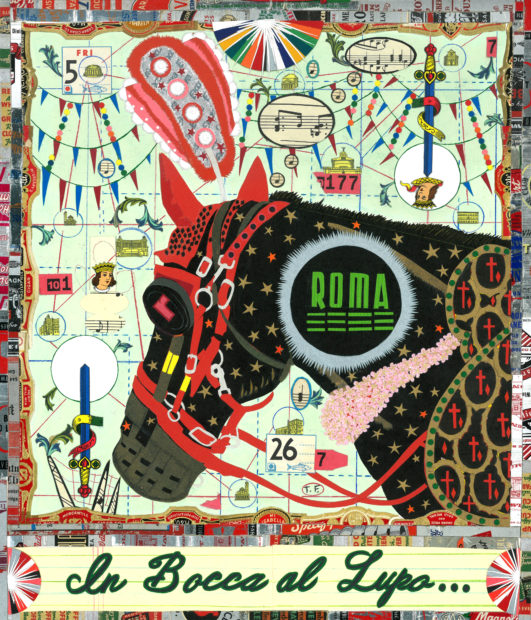 The Lenten Horse Dreaming of Music is among the standouts in the exhibition. The largest work in the show, it was inspired by a visit to Rome and is littered with references to the Italian capital. At the center is a horse adorned with red and white plumes, and along the bottom of the drawing is the phrase "In bocca al lupo," an Italian idiom used to wish performers good luck, similar to "Break a leg!" Full of pomp and theatricality, it's a nod to the kind of revelry associated with the Eternal City.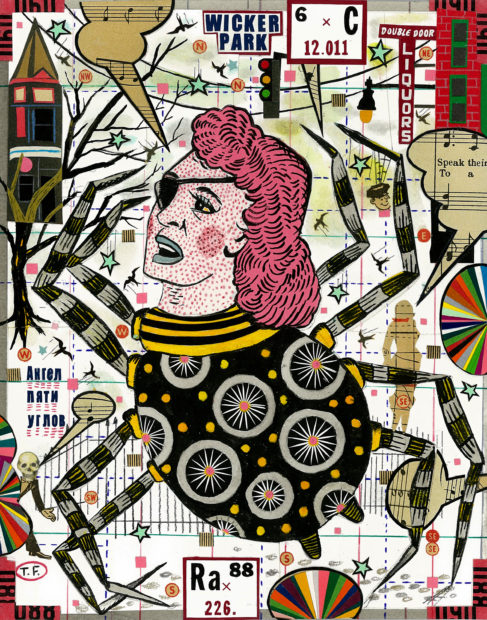 The central figure in The Apparition at Five Corners is a cartoonish creature with a female head and the body of a spider. I wondered at the origin of the character—it appears in other Fitzpatrick works—and asked the artist about it in a recent conversation. He explained that the figure functions as a stand-in for exploiters or "wolves in sheep's clothing." In this work in particular, with its reference to Chicago's Wicker Park neighborhood, Fitzpatrick says it symbolizes real-estate developers who are gentrifying the city at an alarming rate. Chicago is no longer for the people who built it, he says.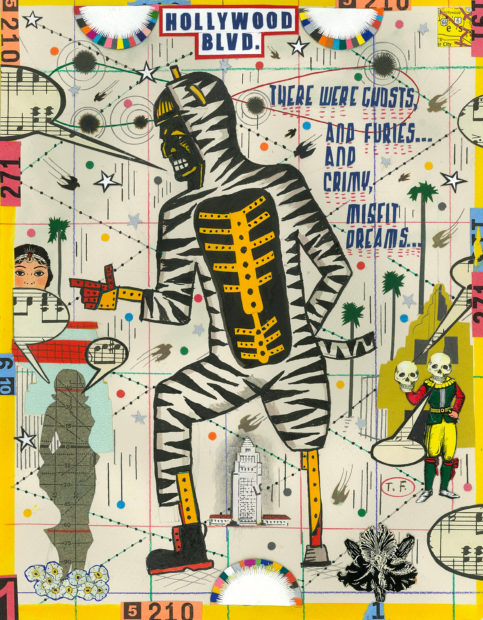 The Tiger Man Wants to Dance explores the age-old lure of Hollywood, the tale of would-be stars seeking fame and fortune. Flanking the peg-legged, swindling Tiger Man, the focal point of the work, is a voluptuous feminine shadow on one side, and a costumed skeleton holding a skull on the other. Is this the hopeful beginning but disappointing end for so many aspiring actors? Floating above the scene are the words, "There were ghosts, and furies… and crimy, misfit dreams… ."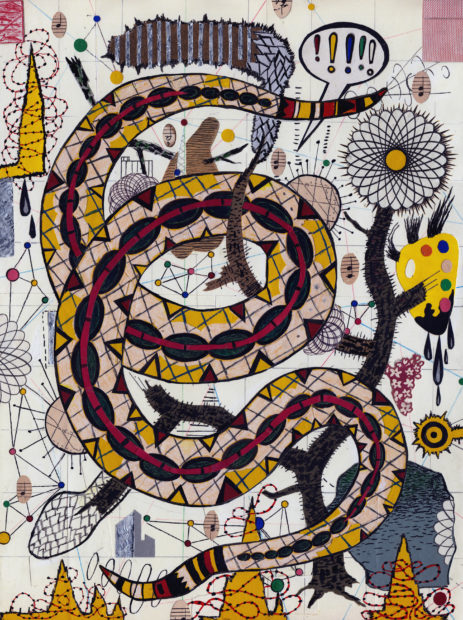 Texans will appreciate The Viper Tree, with its voluminous snake set against a loose interpretation of a West Texas landscape. The serpent weaves in and out of tree branches, its shape mimicked by the spiraling flora surrounding it. Fitzpatrick's ties to the Lone Star state run deep. He is enamored with its topography, he says, and he has palled around for years with the Slugfest printmaking team in Austin, and musician Steve Earle, for whom he's also designed album covers.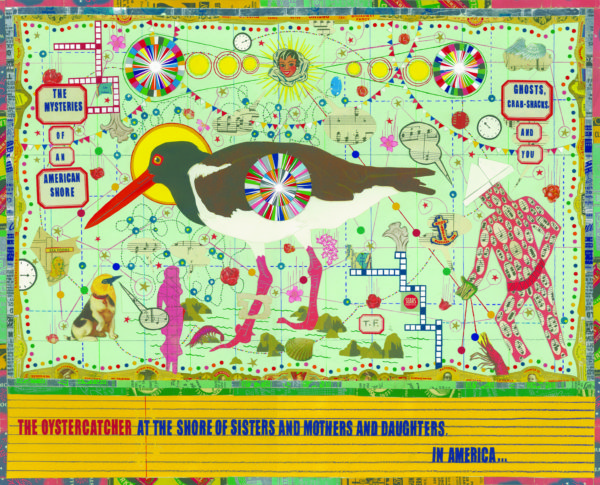 Perhaps most recognizable are three works from Fitzpatrick's celebrated bird series. Birds have been of interest to the artist since childhood, and he has created dozens of collages celebrating them and their unique attributes, from Bluejays to Blackbirds. "When I wanted to ignore the world around me," he wrote, "I drew  birds and monsters and naked girls. I made my own little world and was very happy to be there. Still am."
On view at the Bale Creek Allen Gallery, Austin through July 24.