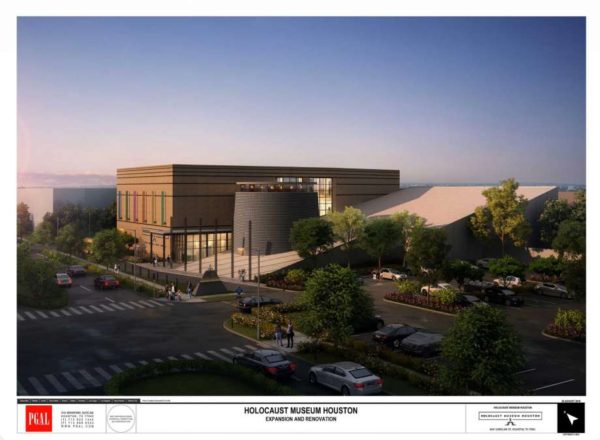 The Holocaust Museum Houston recently announced plans to renovate and rebuild their campus as part of a $49.4 million expansion campaign. The current 21,000 square-foot building, which sits in Houston's Midtown district, will be partially razed "to make way for the new three-story structure that will house exhibits, classrooms, library space and administrative offices." This expansion will more than double the museum's size, making it the fourth-largest Holocaust museum in the country. It will also add 4,000 square feet to the museum's permanent exhibition Bearing Witness, A Community Remembers. The new campus will be renamed "Holocaust Museum Houston, Lester and Sue Smith Campus" in honor of the $15 million matching grant Lester and Sue Smith donated to the museum's campaign.
Dr. Kelly J. Zúñiga, the CEO of the museum, spoke about the projected effects of the expansion, which is set to be completed in early 2019:
Because the museum is a leader in educating our youth, the expansion will give us the opportunity to serve substantially more students each year. We believe the expanded exhibits, complete with bilingual English/Spanish signage, will increase student field trip attendance by 50 percent in the first year alone, and are projecting that our overall attendance will grow by nearly 35 percent.
The firm charged with designing the museum's expansion, Mucasey & Associates, Architects, along with the group tasked with exhibition and media design, Ralph Appelbaum Associates, were both involved in the building of the original Holocaust Museum Houston, which opened in 1996.
The museum will close for construction on July 24, 2017. It will open a temporary museum at 9220 Kirby Drive, Suite 100, on September 5, 2017.