Americans for the Arts, a nonprofit dedicated to supporting the arts in America, recently released a report detailing the economic impact nonprofit arts and cultural organizations have on the American economy. When thinking about museums, granting organizations, and publications, it can be easy to forget that in addition to being nonprofits, these entities are businesses and participate in the overall economy. Furthermore (as we've seen), many of these kinds of organizations are destinations that attract developers, tourists, and entrepreneurs and are, as the report claims, "the cornerstone of tourism." Additionally, since many of these organizations require employees, they provide jobs to the local populace.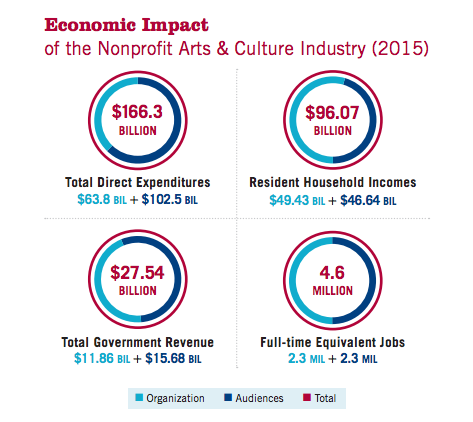 According to the Americans for the Arts' study, America's nonprofit arts and culture industry prompts "$166.3 billion in economic activity, supports 4.6 million jobs, and generates $27.5 billion in government revenue." Of the $166.3 billion, $63.8 billion comes from direct spending by arts and culture organizations, and $102.5 billion comes from the organizations' audiences (more on that below). Through this breakdown, Americans for the Arts deduced that through spending alone (totaling $63.8 billion), these nonprofits support 1.15 million jobs in the US—that's 0.83% of the workforce. (To put that in perspective, police officers make up 0.48% of the workforce, and firefighters make up 0.23%).
The other $102.5 billion these nonprofits generate comes from additional expenditures by their audience members. For example, if you go out to see a play at a nonprofit theater, you get dinner beforehand, have to pay to park you car, and may go shopping at a nearby store prior to the production. In this study, Americans for the Arts concluded that the average attendee spends $31.47 per event beyond the cost of admission.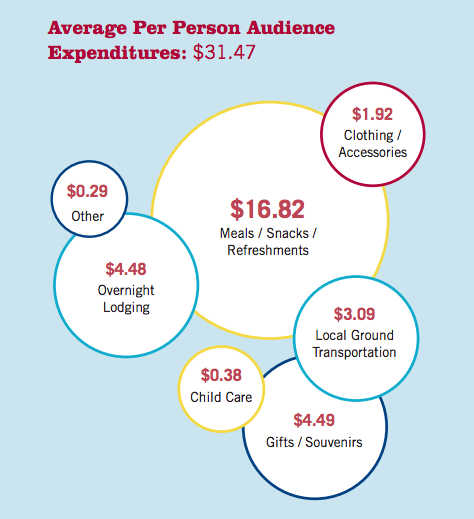 Of course, contributing to these expenditures is the fact that cultural tourism draws national and international audiences. The report claims that one-third of attendees at art and culture events are from outside the county in which the events take place, and subsequently, these out-of-town visitors typically spend more money than locals do.
Randy I. Cohen, the Vice President of Research and Policy at Americans for the Arts, talked about the report with Hyperallergic:
It's nice when you can put a number on things people know are happening but can't put a figure to, like the economic impact of culture, but I think there are probably more people than that who love the arts, but don't ever think of it as an industry. This is a myth-buster for a lot of people. It changes the conversation about the arts from one of charity to one of industry.
So next time you find yourself attending an event at a nonprofit, remember: You're contributing in a meaningful and measurable way to your local economy and to the US economy.