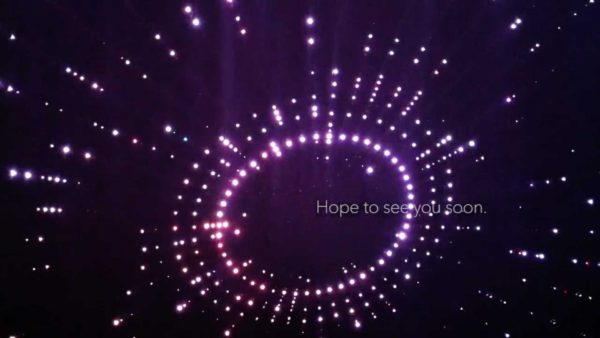 In the summer of 2015, Sandra Bland was arrested after a traffic stop for failing to signal a lane change in Prairie View, Texas. She was on her way to Prairie View A&M University, where she had a temporary job as a summer program associate, and was moving from a town outside of Chicago with a hope of starting a new life. Bland was arrested and jailed on the charge of assaulting a police officer, and her body was found hanging in her county jail cell three days later in an apparent suicide. Footage of the incident revealed that what should have been a routine traffic stop escalated appallingly. The state trooper who arrested Bland was terminated from duty, and later indicted on a charge of perjury.
In the wake of Bland's death, the movement (and hashtag) SayHerName was born, with a goal of raising awareness of African-American women who die while in police custody or at the hands of police. Protests and memorial services sprang up where family members and activists would read aloud the names of a black women killed by law enforcement.
Naming the dead is fundamental to remembrance: long before Maya Lin's transcendent Vietnam memorial, we created monuments inscribed with the names of those who died in wars; and verbally reciting names of the dead so that we can #neverforget has been common practice since well before 9/11. These public incantations are chants of grief that acknowledge individual victims while stressing the enormity of the collective loss.
It is therefore fitting that the artist Autumn Knight selected a meditative chant by Alice Coltrane Turiyasangitananda as the music for her new video, Directions to Prairie View. The video is an elegiac meditation on Sandra Bland that arrives just as yet another ghastly and heartbreaking death of an African-American at the hands of police in Texas makes headlines, of 15-year-old Jordan Edwards in Mesquite. Knight created her video for the exhibition How Do I Say Her Name?, curated by Ann Johnson for Art League Houston in response to the SayHerName movement. The piece converts the mundane horror of Bland's experience into transcendent ideas of journeying and freedom, and it could not arrive at a more urgent time.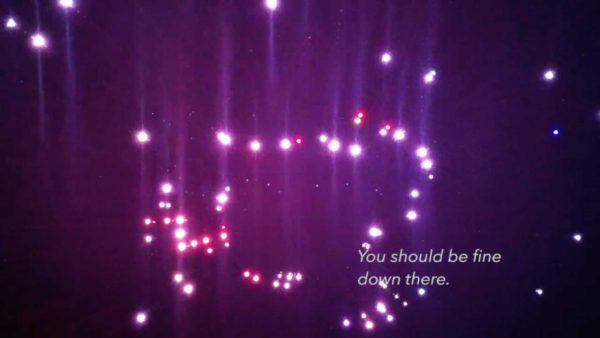 The song "Om Shanti" uses the formal structure of jazz and gospel music, repeating and overlaying a series of Hindu mantras in a richly layered composition with multiple singers. It's interesting that Knight would choose a song by a noted Hindu pacifist and spiritualist for a work about a particularly disturbing and sad episode of police brutality. Om Shanti itself, perhaps the most primary of Hindu chants, is a prayer for peace.
For Texans, Bland's death came as a visceral shock: the string of violent episodes against African-Americans that had dominated the media and riveted the country starting in 2014 in Ferguson, Missouri, was suddenly close to home. As Knight herself describes it, "to hear that story and it's this young woman — not only it happened in Texas, but literally right down the road. And it's just feeling like the danger is coming closer to you. It's always present, it's always there, but now there's a specific place associated with the violence that's in physical proximity to you."
Knight knows well the road where Bland was arrested, having worked at Prairie View A&M as an adjunct art instructor in 2011 and 2012, during which time she would make the hour-long drive from Houston to the university. The text in Directions to Prairie View is taken from Knight's own email correspondence from the time when she taught at the university. The imagery is of concentric circles of light that explode outward. The lights look like something from a carnival or disco — but abstracted in the context of the video, they suggest some kind of astral meditation, space travel, or even a vision of heaven, a sense which is reinforced by the devotional music.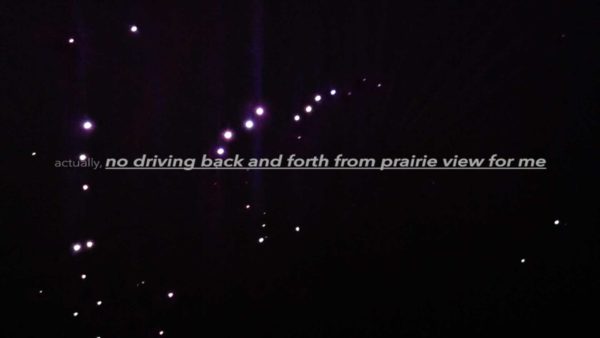 The repetitive nature of the music and visuals, coupled with text about directions and driving, describe a journey with no beginning or end — "the drive to Prairie View," both literally and figuratively, is something that's repeated over and over by many people. This journey might include traveling to a university, a place ideally of learning and renewal; or traveling repeatedly through a Sisyphean ordeal of injustice and violence; or peacefully making the passage from life to death.
Part of the human experience is to feel out of control of our surroundings, where we are at the mercy of forces larger and more powerful than we are, whether they be authority figures, illness, systemic racism, the art world, or just bad luck. Knight's video is a response to the feeling of being out of control — in her case, to the fearful acknowledgment that such a devastating fate could befall a woman her age, on a road Knight herself had driven so many times, so mundanely close to home. Directions to Prairie View is Knight's lyrical effort to cope with — and even create something poetic out of — the tragedy and existential horror of a senseless death.
For more information about the number of police shootings in the United States versus other developed countries, see this comprehensive report by the Guardian.
For more information about deaths in US jails, see this study by the Huffington Post.