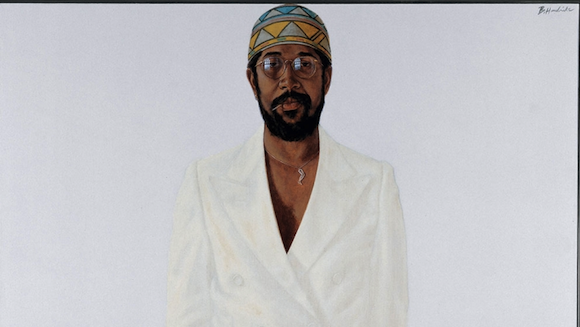 Those who were fortunate enough to see the 2010 exhibition Barkley L. Hendricks: Birth of the Cool at the Contemporary Arts Museum Houston (or elsewhere) know that Hendricks is the coolest of the cool—a painter of everyday folks who were transformed by the artist into the coolest of celebrities.
Hendricks died suddenly yesterday morning of natural causes, reports Hyperallergic. He was 72 years old.
Birth of the Cool was organized by Trevor Schoonmaker at the Nasher Museum of Art, who said of Hendricks, "To be blunt, he changed the course of my life. With so many artists and writers now responding to his paintings and photography, Barkley stands out as an artist well ahead of his time. Though his work has defied easy categorization and his rugged individualism kept him outside of the spotlight for too many years, his unrelenting dedication to his pioneering vision has deeply inspired younger generations. … Today Barkley's extensive body of work is as vital and vibrant as ever, and the full impact of his art and teaching is only beginning to unfold."
Hendricks was born in Philadelphia in 1945. He studied at the Pennsylvania Academy of the Fine Arts, Philadelphia, and earned his bachelor's and master's degrees in fine arts from Yale University, New Haven, CT. He taught at Connecticut College in New London, from 1972 until 2010. Hendricks made his mainstream museum debut at the Whitney Museum of American Art, NY, in the 1971 show Contemporary Black Artists in America. In 1980, the Studio Museum in Harlem, NY, organized his first major solo show. In 1994, his work was part of the Whitney's Black Male: Representations of Masculinity in Contemporary American Art. A large solo show, The Barkley L. Hendricks Experience, 2001, was organized by the Lyman Allyn Art Museum, New London, CT. And, in 2005, Hendricks's work was included in Back to Black—Art, Cinema and the Racial Imaginary at Whitechapel Art Gallery, London.
Hendricks is survived by his wife, Susan, of 34 years.