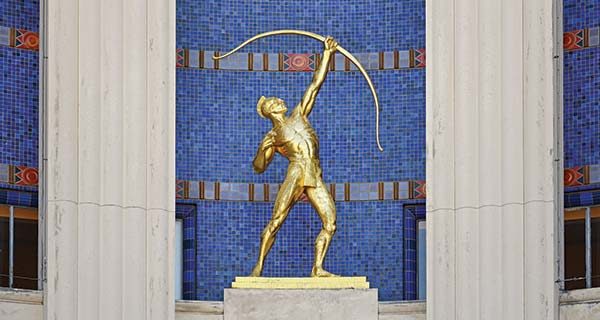 Dallas' Fair Park came to fruition in 1936 with the Texas Centennial Exposition, a big world's fair held in the midst of the Great Depression. Most all of Fair Park's famed Art Deco buildings and its public artworks were built for the Expo, and on March 14, the Dallas-based Heritage Auctions will hold a speaker-series event which will feature "award-winning Art Deco authors Jim Parsons and David Bush speaking about art and architecture of Fair Park – the public spaces, buildings, sculptures and murals that were designed for the 1936 exposition. The authors will bring the Centennial Exposition to life in their illustrated lecture, discussing Fair Park's distinctive buildings and artwork and the stories behind their design."
Texas native Jim Parsons is the director of special projects for Preservation Houston, and David Bush hails from New Orleans, "where he developed his lifelong interest in historic architecture." They've co-authored three (award-winning) books about Art Deco architecture in Texas, including one on Fair Park. Says Parsons:
Creating the Art Deco art and architecture of Fair Park for the 1936 Texas Centennial Exposition was a monumental task in the depths of the Great Depression — in fact, the exposition's promoters coined a word, 'Texanic,' to describe its scope. Today, Fair Park houses one of the world's largest collections of Art Deco buildings, and it is the only surviving fairgrounds from the golden age of world's fairs.
This talk is titled An Empire on Parade: Art and Architecture of the Texas Centennial Exposition, and is the second installment in Heritage Auctions new speaker series. It takes place Tuesday, March 14, at the Dallas Design District Showroom, 1518 Slocum Street at 6 p.m. A Q&A and book signing follow the talk. For more info, go here.