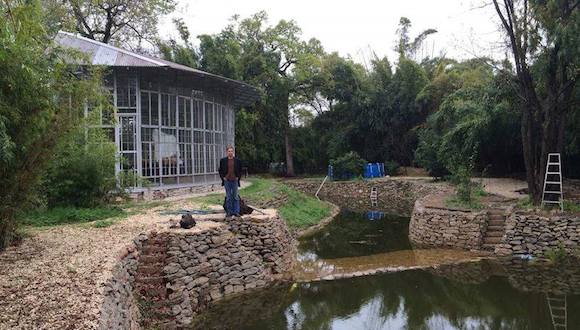 Every year, the ReUse People of America host a National Reuse Contest where applicants compete to see who can make the best use of upcycled materials. The competition is broken down into two categories that each have three national winners—"Art and Furniture" and "Remodeling and Construction."
For the 2016 contest, Houston artist Nestor Topchy was selected as the national first place winner for the remodeling and construction category. For his project, Topchy used concrete from Houston's Reuse Warehouse to create a self-regulating pond ecosystem that houses numerous species of amphibians, flora, and fauna.
Houstonians may known Topchy from his ambitious HIVE project that aims to design and build affordable housing and workspaces for the Houston community. (Glasstire has been working on a video profile of Topchy which will release later this year.)
Congratulations, Nestor!