Below is a round-up of some shows our Assistant Editor Brandon Zech saw on his recent trip to Austin and San Antonio. -Ed.
Critical Mass
January 26 – February 26, 2016
Southwest School of Art, San Antonio
Often the best thing about large group shows is coming across artists you are unfamiliar with that may have been under your nose the entire time. Critical Mass, on view at the Southwest School of Art in San Antonio, offers up a selection of works from the school's art faculty. Paintings, drawings, sculptures, and installations fill the cavernous gallery space, and there are a slew of familiar names. But it was a pleasant surprise to discover an artist whose work I didn't know.
Joe Harjo is a San Antonio artist and a member of the city's Lullwood Group. In Critical Mass, he's showing a small suite of screen prints that play with the use of the word "Indian" in American culture. Structured as pages from a fictional children's activity book titled "I" is for Indian, the prints depict a feather headdress, the Cleveland Indians' logo, and the upper torso of a Native American. For two of the prints, Harjo has used an oil pastel to mimic a child's pastime, connecting dots to form the mascot's head, and coloring in beads on the headdress. Each work contains the hashtag #ThisIsNotAnIndian in an effort to call out the semantics of the word.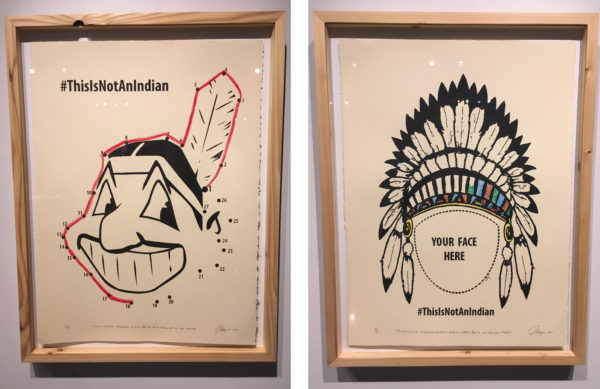 Harjo's work reminds us that language is important; the denotations and connotations of words and symbols matter, and he hints at just how complex it can be to communicate ideas when using images that are so loaded. When writing this, I searched Google for the word "Indian" and found a mixed bag of images—some meant to represent Native Americans, some meant to represent people from India—and some of people wearing headdresses at Coachella. I like that Harjo's simple gesture reminds us to double-check the words and symbols we encounter in our daily lives.
Elaine I-Ling Shen & Alyssa Taylor Wendt: In the Absence of Ideal Conditions
January 13 – February 11, 2017
ICOSA Collective, Austin
Austin artists Elaine I-Ling Shen and Alyssa Taylor Wendt made a the right choice in collaborating for their exhibition In the Absence of Ideal Conditions on view at the ICOSA Collective. Anchored by a gaping pod called ORB, the show is made up of works that allude to the body, and exude a profound sense of loss.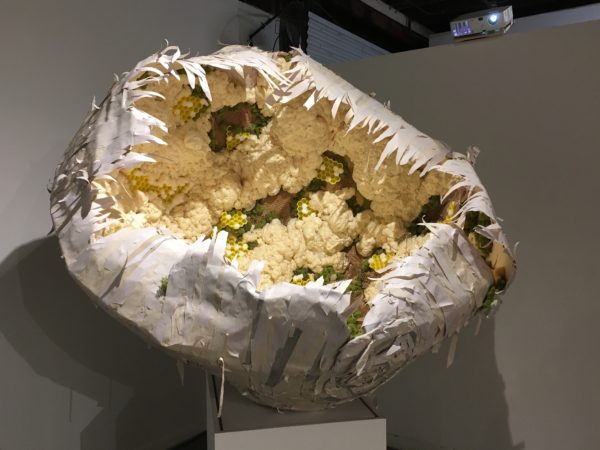 The artists joke that ORB was their "idea generator" for the exhibition, and they're not wrong. Many of the works appear to have been ejaculated from the appealingly moldy, oozing pod. In the back of the exhibition hangs Innominate I-XIII, a collection of fleshy structures made of latex, yarn, pipe cleaners, rope, and various other materials. Though each strand takes a different form, many of them have a goopy surface and twist like DNA strands. On the wall are three digital photographic prints that trace the development of mold growing on a surface. During the progression from day nine to day twenty-two, the yellow-orange membrane becomes less and less recognizable—less and less human—as the spores take over.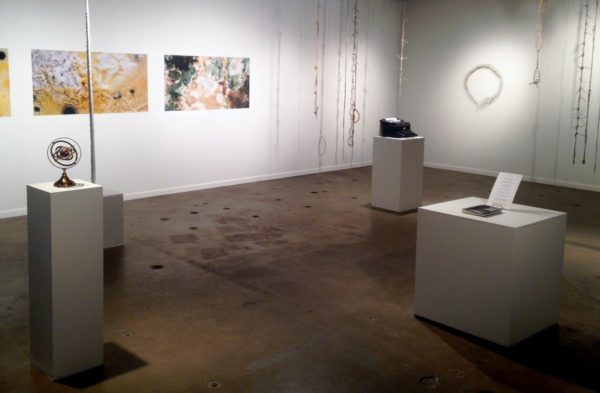 While many works in the show reference the corporeal, some pieces are have a less direct source. Divination Station CCCLX is an interactive book that encourages viewers to briefly meditate and then tear out a page at random—the chosen page is the viewer's "fortune of the moment." By the time I saw the show, the book was well worn and had passed through many hands. The tattered remnants of the book in context with the rest of the show made me feel like I was on an allegorical version of our planet. Humans had fully destroyed the earth and now we were back to the beginning. Only flesh and spores remain.
Christina Coleman
Multiple venues throughout Austin
Christina Coleman has been popping up a lot around Austin recently, and deservedly. She has been in exhibitions at MASS Gallery, Pump Project, and grayDUCK, and she helps run de stijl | PODIUM FOR ART, a gallery relatively new to the city. A UT MFA alumna, Coleman often gravitates towards materials that are tied to African American hair culture. At MASS, Coleman showed a huge archway created from beaded extensions; at Pump she presented a walking staff covered in colorful hair baubles; and in her studio, she showed me slip casts in which she planned to make ceramic hair picks.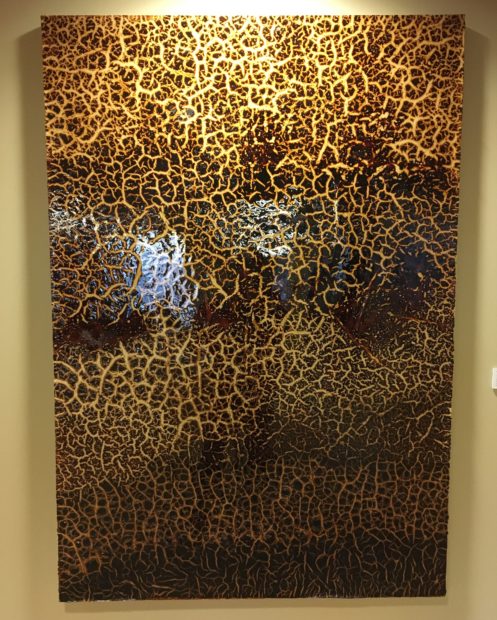 When I visited UT's Gordon-White Building to see a public-art commission by Michael Ray Charles, I came across Coleman's 2013 Untitled (Eco styler, African Essence, Softee, Ampro Pro Styl) hair-gel painting. At first glance, the piece looks like a generic, resin-coated abstract painting you would see at an art fair, but when looking at it in the larger context of Coleman's work, it reads differently. While the large "painting" is partially a materials study, I see it as a now-recognizable challenge (to a previous establishment) of what art is supposed to be. We know the white male dominated world of Abstract Expressionism believes that gesture and size equals power. But challengers to this conceit are surfacing every day, and by using particularly non-art materials, and creating a figureless portrait of the person who would use this hair product, Coleman is doing her part to undercut this history while carving out a place for herself in the process.