(Note: This is the second in a series of stories published in conjunction with the traveling project 'Altered States' which opened November 3rd at FL!GHT Gallery in San Antonio. For Part One, go here.)
Day Three (continued from Part One)
Conversation overheard in Lawton, Oklahoma:
Person 1: "The closest one is an hour away. Back in Wichita Falls."
Person 2: "Where I'm from there's one on every corner."
Person 3: "The closest Dunkin' Donuts is an hour away? Crazy."
Now, the history of the donut is disputed, but most often it is attributed to 19th-century America. This is apropos of nothing, except that I'm on my way to Nowhere, and, like the word "apropos," a donut has a hole in the middle. As does Laurie's Anderson's seven-inch, It's Not The Bullet That Kills You, It's The Hole, but that's another story— though all these constituents, Laurie Anderson, bullets and 45s, are American as all git out.
There is evidence the "dow nut" came from Hertford, England, the recipe attributed to a Mrs. Fordham. But holy provenance aside, the donut has certainly become Americanized, including the way it is spelled. Witness the grand opening of San Antonio's first Krispy Kreme store in 2002—people were lined up for the drive-thru window all night, lines of cars snaking into the bowling alley parking lot next door, police barricades, on-duty officers for crowd control: this is America.
But if a donut could speak, we could not understand it.
Nonetheless, I'm trying to think of something a little more quintessentially American than a donut. The Road Trip is most obvious right now, and Abstract Expressionism, the electric guitar and Jazz are clearly bedrock in this concern; but if we are honest, so is cultural genocide. This last reminds me that if I consider all the revolting things that have been said by a certain former presidential candidate, the two words he strings together that anger me the most are "our country."
Through an alchemy of presumption he manages to contradict the sentiment of Woody Guthrie's most famous song by using the word "our," a pronoun that is usually copacetic with "my land" and "your land"—yet out of his mouth it sounds like it means only "mine,"… oh, but it's a lovely country, he's got some hotels there.
But not in Nowhere. That's where I'm headed.
If I can't find it and keep heading north about 300 miles past where I believe it is, I'll hit Kanopolis, Kansas, the mythic center of the country, but at this point in time I don't yet know that story. This unseen possibility lies like a snake that has swallowed a yard stick, pointing due north as would a prophecy, or the lost needle of a compass.
Miles north of Cache the snake-needle begins to tick in my memory and I realize I've misunderstood—maybe it was the hand of a clock. And soon I'm lost in a reverie that only has a single reference point in physical reality, the dials and gauges in the dashboard, all marking something, seemingly clocks. Then, looking up, I noticed I was late, so even though pulling over isn't my first instinct, I do it anyway.
Just so happens I pull up next to the Parallel Wood. Getting out of the truck I see a path and head in. It's seems theatrical—trees don't so much grow here as find their places. At this point I've never read anything about this place being haunted or the site of satanic rituals, so I experience its strange silence straight up. No trickle-down fear to be heard or felt. Deep in, with the path no longer visible, I become disoriented and I revert to my original interpretation of that unseen possibility—a compass would definitely be handy. It's a bit like a hall of mirrors without the corridors, and deathly quiet, as if something is being born somewhere very far away.
Eventually I find my way out, and once back behind the wheel I'm down the road, north and east toward my destination. I pull over to forage in Meers. The plywood parallel parking sign gives me a chuckle, but little do I know what is coming: back on the road, a strange perceptual iteration takes over and the parallelism that seemed novel in the forest is now everywhere I look. This effect only lasts for about 11 miles, but after it passes I have to pull over to re-gather. I stand on a bridge just to settle down and the sky breaks into birds.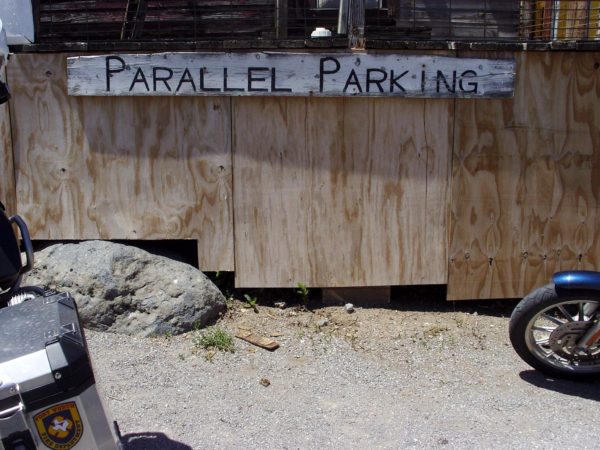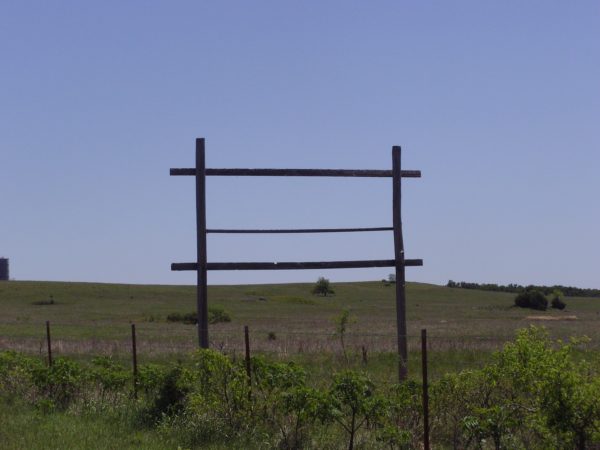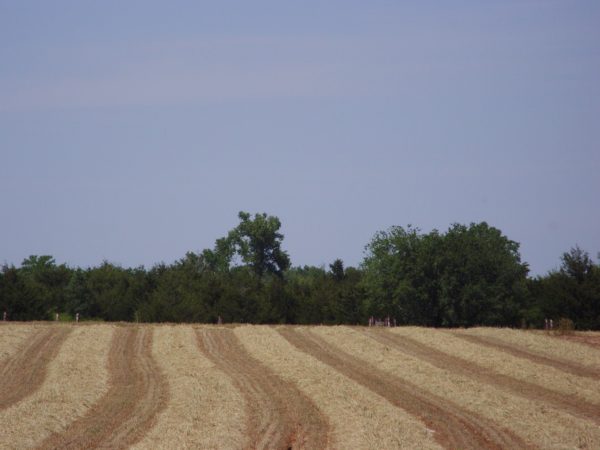 Back on the road, as I get closer and closer to Nowhere, I find myself circling a small lake. Two teenagers are riding an ATV around it too, but moving in the opposite direction. I can see that the driver is heading into the bend as furiously as she can, while the rider hangs on. When we become opposite points on the circumference, I hear one of them shout "Oh my god!" and I can see that their progress toward me has stopped. Then, as I make my way to their location, I can see that the rider is crouched on the ground. Offering help seems out of the question, as their vehicle and mine had been circling in parallel but separate universes. So back around I continue, and once again, as I reach the point opposite on the circle, I can see that they are both back in the saddle and laughing. Then, as the next half-circle nears completion, I leave off toward Nowhere.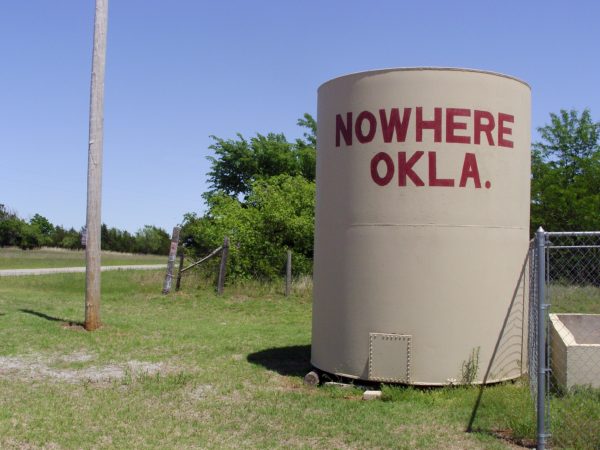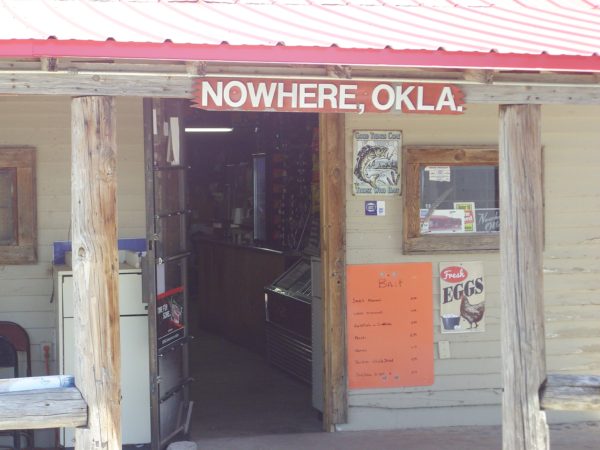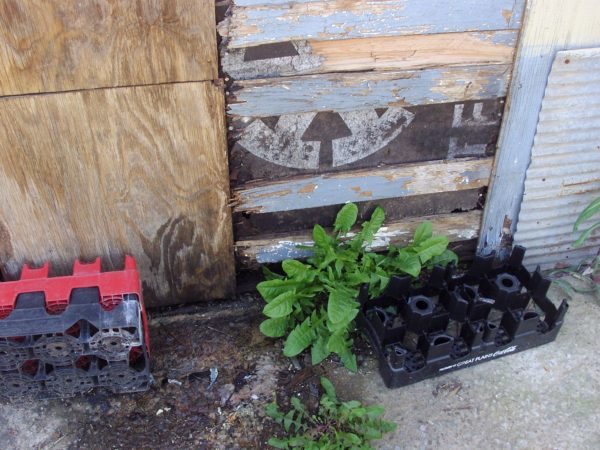 When I arrive, there is a tank. It's round and empty, like nowhere. The April Fool's joke still going around is that Anish Kapoor is going to paint it with Vantablack, but I like it just like it is. And there is a building, a store, bait shop, etc. Both the building and the tank sport the label 'Nowhere'—I wonder which one is in the middle of it?
To be continued… .
Hills Snyder's 'Altered States,' a travelogue and traveling exhibition of drawings from the road, continues. The closing gathering for Part One of the exhibition is Sunday, November 27th, at Fl!ght in San Antonio, 3 to 5 p.m.
Part Three of the travelogue will appear on Glasstire, April 19, 2017. Part Two of the traveling show will open July 7, 2017, at the Louise Hopkins Underwood Center for The Arts in Lubbock, Texas.