It's important, at times, to keep busy enough to stop thinking about you-know-what for a few minutes and Austinites have tons of options this weekend.
It's the first of two weekends (November 12-13 & 19-20) of the annual East Austin Studio Tour (E.A.S.T.), which can keep your eyes, mind, and feet occupied until you are too exhausted to think of anything else. For a helpful preview of what will be on the self-guided tour, read Kathleen Brady Stimpert's Glasstire article. For the full schedule, visit http://east.bigmedium.org/.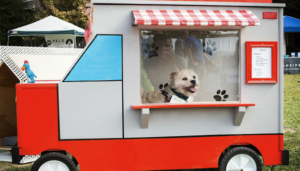 Also, Saturday, November 12, starting at 11am, the 12th annual Barkitecture Austin will take place at 1300 S. Congress St. (Jo's Coffee and Hotel San Jose). It brings together local and national architects to create one-of-a-kind designer doghouses that are auctioned to raise money for select rescue groups. This year, Austin Pets Alive! is the sole beneficiary. In addition, there will be a dog costume contest and parade, or the "Fashound Show," which begins at 2pm.