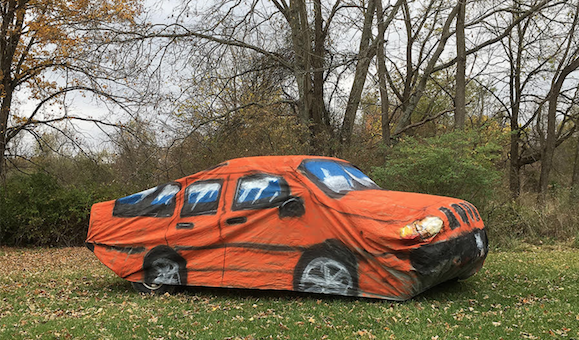 We received a semi-mysterious email today from the address connected to the Dallas gallery that once was OFG.XXX (née Oliver Francis Gallery, a.k.a. PUSHKIN & GOGOL), founded and run by Kevin Rubén Jacobs. Jacobs used the name PUSHKIN & GOGOL most recently as an exhibitor at the Art City Austin Art Fair this past spring, with an artist list that included, among others, Pierre Krause, Puppies Puppies, Michael Mazurek and Keith Allyn Spencer.
The new press release alludes to a one-day event that will, at the very least, circumvent the recent Dallas fire marshal problem. A Keith Allyn Spencer piece (he's an Ohio-based artist)—a movable feast perhaps that looks to be a custom car dust cover—will show up on Thursday, November 10 at four Dallas locations: a Walmart Supercenter, a Home Depot, a Hobby Lobby, and a Papa John's Pizza. It's billed as: "OxGord Economy Auto Cover – 1 Layer Dust Cover – Lowest Price – Ready Fit / Semi Glove Fit fro [sic] SUV, Van, and Truck – Fits up to 206 Inches."
That's all we've got. For more info, please go here.