In You We Trust is a sculptural installation of 2000 ceramic gold coins, symbolizing the number of young people sex-trafficked each year in Dallas. Artists Jen Rose and Marian Lefeld opened their studios during the summer, inviting the community to participate in the creation of the work and to raise awareness about this global and local epidemic. The resulting exhibit is up at Richland College through October 17.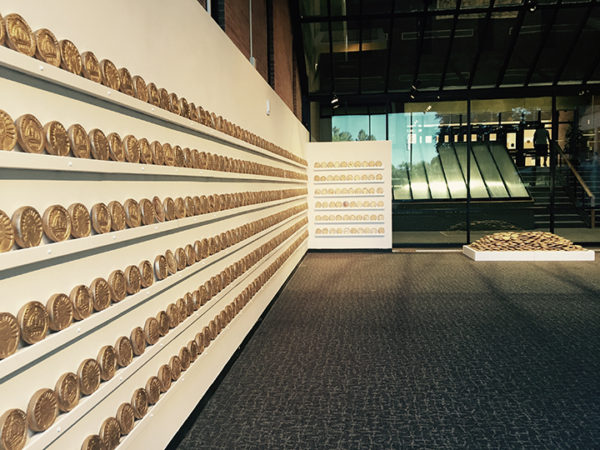 Colette Copeland: This is the second major public art project that you've created in the past two years. In 2015, you displayed Blood of Heroes Never Dies at the Richland College campus. The large outdoor installation of 5,171 ceramic poppies commemorated each Texas soldier killed in the first World War.
What do you hope to accomplish with the latest work In You We Trust? Adopting a cynical perspective for a moment, is an art installation the best medium to promote awareness and incite change?
Jen Rose: Marian Lefeld assisted in Blood of Heroes Never Dies and was a co-creator of In you We Trust. In both projects we raise awareness and ask for buy-in through audience participation. In a time when media, politicians, and interest groups are literally yelling at their audiences, vying for attention, these projects are both visually powerful and quiet at the same time, allowing for introspection. I'm not sure that installation art is the best medium to promote awareness but it is what we are able to do. It is our way to make a difference.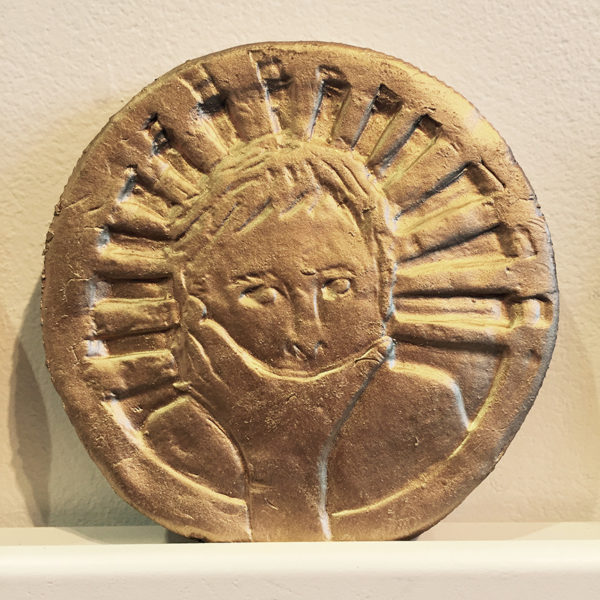 CC: One of the most interesting aspects of the project was the open call to the community to come in to the studio and participate in the creation of the coins. Can you speak a bit about the importance of that process as it translates to the outcome of the project?
JR: Our philosophy is that 60% of the outreach and education happens in the studio and 40% at the exhibition. Each time volunteers came to the studio we asked that they share their experience on social media, so we had lots of selfies taken with clay or gold paint on their hands. Marian and I work well together because we have completely different social circles. She's able to draw a different crowd than I am so our message is spread to a more diverse audience.
The trick is to orchestrate a project that is easy enough for people with little art experience to participate in while maintaining the visual integrity of the object.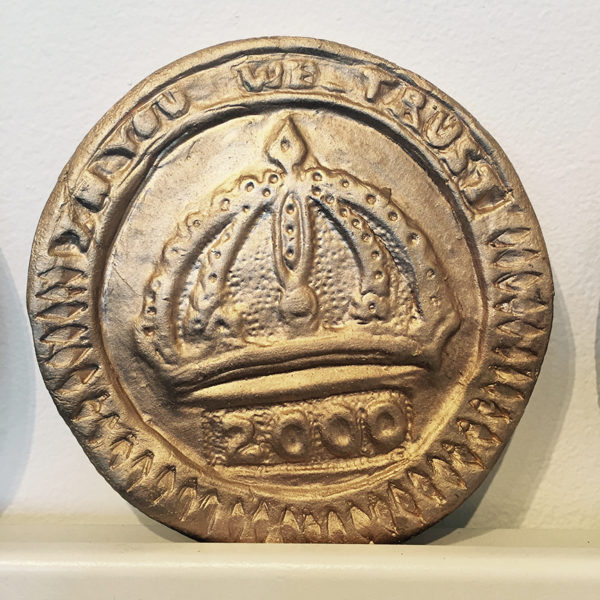 CC:  Why public art? Why sex trafficking? Can you pinpoint an experience in your life that has been pivotal in your decision to make political work involving the community?
JR: One of the biggest social challenges we face now is that we surround ourselves with people similar to us. However, while working on the Blood of Heroes Never Dies project, I noticed people of all ages and backgrounds having conversations. Sometimes they would tell their stories or talk about sex trafficking, sometimes they were talking about something trivial. The point is that they were talking and seeing each other as people, and not the "other." Marian and I like to think we're building community and fostering empathy through the process of these public art projects.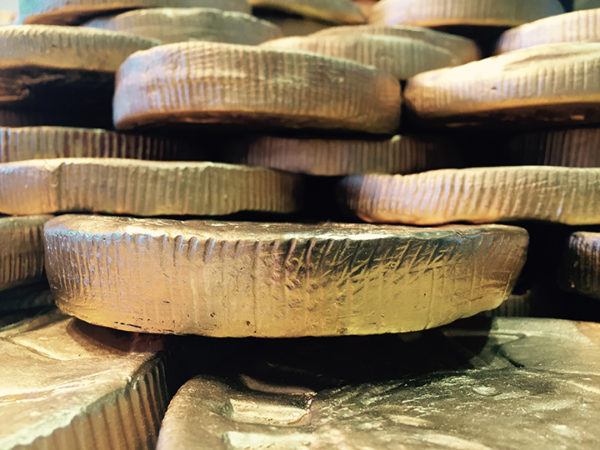 CC:  At any point during the project creation, did you have an "ah-ha" moment, when you thought: "This is the reason I'm doing this, or this experience has made it all worthwhile"?
JR: When you work with statistics, such as that 2,000 minors are sold on the streets of Dallas each year, it's easy to become desensitized to the horror of this number. Each time someone would hear this statistic for the first time they would react with shock: "Not in Dallas!" or, "I had no idea." Seeing their reactions kept the project fresh for us. By creating a visual representation of these numbers it makes the statistic tangible to the viewers and to us.
Through Oct. 17 at Richland College, Dallas.
(All images by Colette Copeland. This transcript has been edited for length and clarity.)