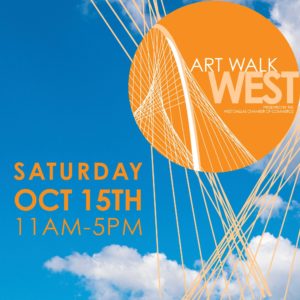 This weekend, on Saturday, October 15 is Dallas' second annual Art Walk West. In and around the neighborhood commonly referred to these days as Trinity Groves (just west of downtown), the day of touring art spaces and artists' studios includes some noteworthy stops: the working studios of artists like Kevin Todora, Luke Harndon, Randy Guthmiller, Zeke Williams (Erin Clulely Gallery is on this tour as well), plus a brand-new studio for Pierre Krause, Michael Mazurek, Peter Bo Rappmund, Ryder Richards, and Michael Wynne. There are about 15 galleries, spaces and studios on the walk, and about a half dozen public artworks to see. This all culminates in "a celebratory reception where guests will enjoy live music, more art and light fare." Info on that is (we guess) for people who get out there.
The art walk is free; it kicks off at 11 a.m and runs until 5 p.m. You can pick up the tour map at any stop, but Erin Cluley would be a good start. Presented by the West Dallas Chamber of Commerce.
For more info, go here or here. And here's a pdf of the tour map.