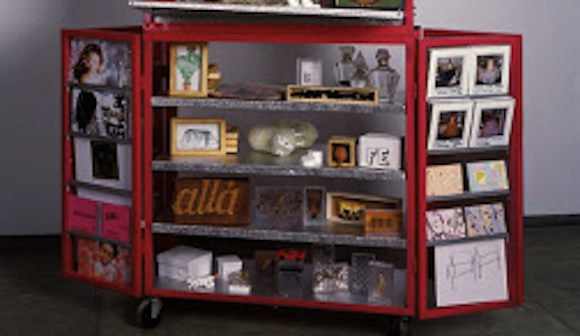 "Changarrito" is an art vending cart based out of Mexico. There are multiple Changarrito carts circulating throughout the world— all with the same objective of promoting original artwork to the general public. First conceptualized by artist Máximo González in 2005 as an alternative to the Mexican cultural authorities, the curators from the Austin's Mexic-Arte Museum have selected over 45 artists to participate in the Changarrito Project since 2012.
Artists display their artworks on the Changarrito cart outside the museum; everything for sale is accessible in price, and one hundred percent of the sales proceeds go directly to the artists. This show features works by Changarrito Project artists, including: Alejandra Almuelle; Andrew Anderson; Briar Bonifacio; Daniel Cobos; Faustinus Deraet; John Gonzalez; Los Printmakers de San Anto Collective; Ender Martos; John Medina; Pedro Perez; Josue Rawmirez; Coco Rico; Natalia Rodriguez; Lys Santamaria; Sixto-Juan Zavala; and Raquel Zawrotny.
For a fascinating history of the Changarrito Project, read Leslie Moody Castro's 2012 Glasstire article.