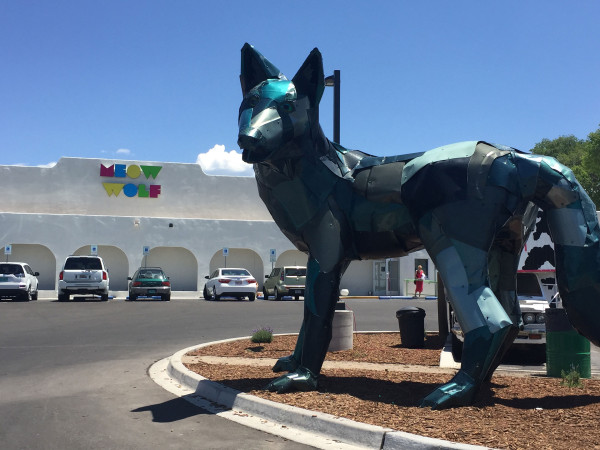 Everybody likes to complain about the art world, even as we participate in it to some degree or another. I'm talking of course about the art world of ludicrous prices, and bespoke museums, and unintentionally funny music videos shot in art galleries, and celebrities trying to make art.
The art world as we've understood it for over a century—where artists make work in their studios which then gets sold in galleries and collected by museums—that world has mushroomed into its own branch of pop culture, and it has very little to do with art anymore. That world is about shopping and status, investment and tax evasion, celebrity and decoration. It's about huge commissions, and massive editions whose production is paid for by dealers. For the successful artists, it's a hamster wheel. And the objects they make that are horse-traded so ferociously are not art anymore, mostly. At best they're just well-crafted, high-end décor, with a light dusting of an idea if you're lucky.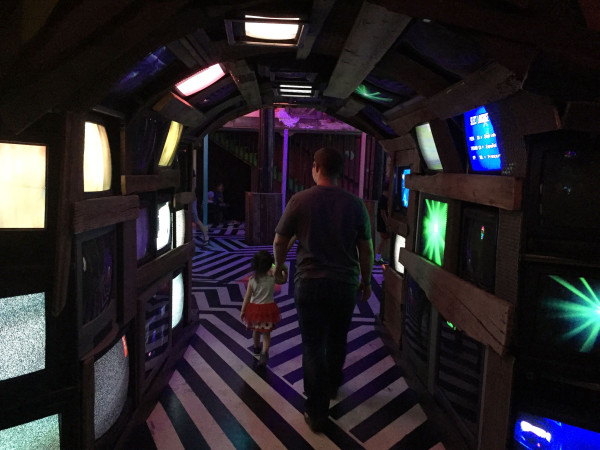 This means that really interesting art is harder to find today, or even recognize. The best art, when you can spot it, is made by people who are resourceful by necessity (as artists always have been), using the tools at hand, be they social media and video, or advances in science, or buildings abandoned by economic ruin. Truly interesting work is out there, beyond the desiccated conceptual shows in kunsthalles and the safe retreads of 40-year-old ideas in galleries and the flatulent playground installations at museums. You want great art? Get out of the art world.
Which leads me to Meow Wolf.
Meow Wolf is a collective based in Santa Fe. Their massive new permanent installation House of Eternal Return is housed in a former bowling alley in a nondescript, slightly shabby, middle-class part of town that's neither in the "serious" art enclave around Site Santa Fe, nor the 8th circle of tourist gallery hell on Canyon Road. Meow Wolf has been getting a lot of press since House of Eternal Return opened in March. The installation has been variously described as "a high-tech storytelling gameworld;" "part haunted house and part jungle gym;" and, in the tepidly enthusiastic phrase of the writer Ben Davis, simply "Big Fun Art." It's wonderful, in the sense that it is literally full of wonder.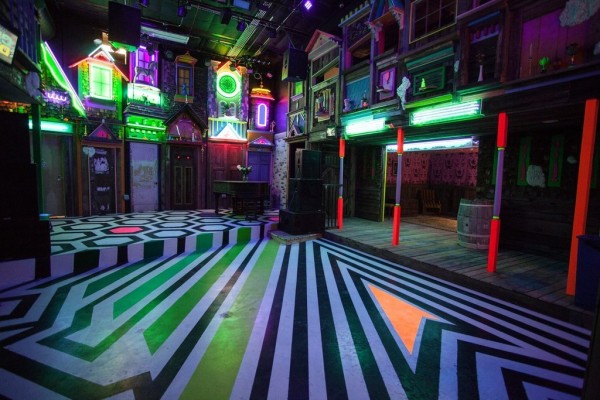 And while I'm not sure whether House of Eternal Return falls under any conventional definition of art, it is nonetheless a delightful, vast, immersive fun house created by real artists. It involves, without too many spoilers, a Victorian house that has experienced what appears to be a rift in the time-space continuum and opened portals into multiple fantastical dimensions. There's an elaborate narrative about the family that lived there, and a mystery to solve. Clues are everywhere. When you buy your ticket, you're told to plan on spending at least two hours inside. "Touch everything," they say. This art installation isn't meant to be passively experienced. It's meant to be played.
House of Eternal Return is at once both massive and incredibly detailed. Two leisurely visits of a couple of hours each, and I was still discovering new spaces, each crafted by an artist or a team of artists and technicians. Taken individually, many of those moments were created by people whose artworks probably haven't made it very far. But that's kind of the point. In an interview with the LA Times, Nick Toll, one of the Meow Wolf artists, says "I was getting kind of bored with the old dynamics of the art world. This is kind of exciting because there is a whole other set of rules."
And freedom from the art world is the name of the game. House of Eternal Return doesn't feel like recognizable art any more than its visitors feel like recognizable art world people. The people I saw there were tattooed, working class parents out with their kids, teenagers on dates, grandparents peering tentatively into the narrow crawlspaces. The usual black-clad disciples of the high art church? Their hushed reverence is absent from House of Eternal Return. Meow Wolf has deliberately broken all those rules.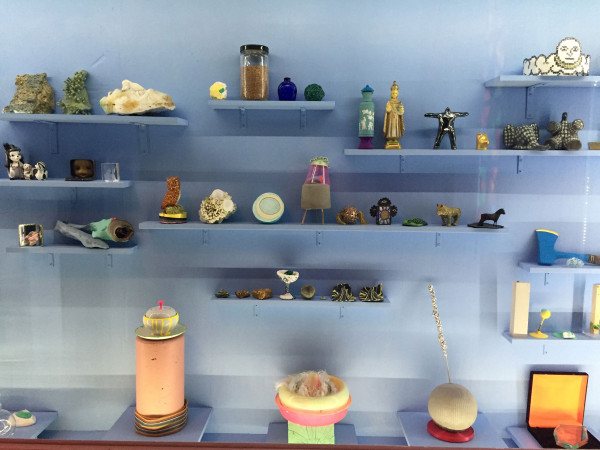 And while I don't think House of Eternal Return is an unequivocal success (I wasn't interested in solving the mystery at the core of its Aleister Crowley-ish narrative, and its environments are not uniformly cool), it is the first really ambitious project I've seen by a large group of Millennial artists that didn't feel like a bad trip to the desert, although it does have a whiff of Burning Man.
In his thoughtful article on Artnet, Ben Davis frets that Meow Wolf is the result of decades of emphasis on attendance numbers at museums, and a death knell for the individual practice. But House of Eternal Return could also be viewed as a positive outcome of the Millennial passion for teamwork and cooperation. Meow Wolf describes its goal as "many artists [collaborating] on a cohesive art piece while retaining individual creative goals and visions." In House of Eternal Return, each artist staked out their eight-foot-square moment and went to town on it. While individualism within a collective may not appeal to your average middle-aged GenXer (and it certainly doesn't jive with the Modernist notion of the heroic artist slaving away all tortured in his drafty studio and producing one-off masterpieces), it's one way of doing things on a huge scale without selling your soul to Larry Gagosian.
Because we all know what that Faustian bargain looks like: artists who want to succeed in the art world today must carefully plot out a career, ticking off the right residencies and MFA programs, knowing the right curators, getting picked up by the right galleries. They must have the skills and aesthetic know-how to make the kind of fashionable work that will appeal to buyers.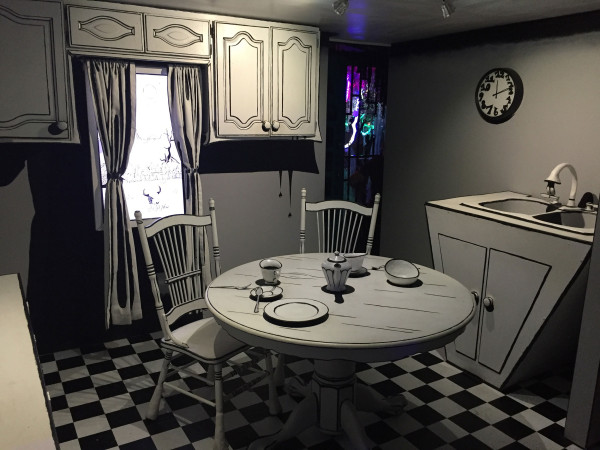 What I admire most about Meow Wolf is that they explicitly want out of that world. They want their freedom, and they figured out how to get it.
Of course, they still need money. And more than anything, House of Eternal Return is interesting as a model of post-art-world art. Crucially, it's a for-profit business. It's main benefactor, the Game of Thrones author George R.R. Martin, is not on ArtNews's list of the top 100 art collectors. He made an investment in Meow Wolf, not a donation. Sold on the artists' vision of a sci-fi wonderland, he purchased the derelict bowling alley for them, leased it back for 10 years, and invested an additional $2.5 million in the project. How generous his rate of return is is anybody's guess—presumably it's better than what you can make on the bond market these days—and it's easy to imagine that he has cut the artists a generous deal. But it's not a gift. Meow Wolf is not a non-profit. It's a blueprint for a future of art-making where artists can free themselves from the limitations of art world patronage, so long as they're willing to be entrepreneurs.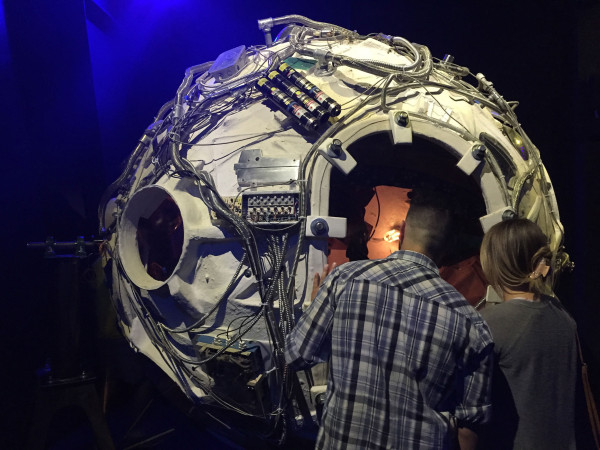 I like this clarity and quid pro quo aspect of Meow Wolf: you pay for this, and you get this. Tickets to House of Eternal Return cost $18 for out-of-state residents. That's the same as a ticket to the Yayoi Kusama infinity room at the Museum of Fine Arts Houston, and it's a hundred times better than the Kusama. (You also get to spend a hundred times as many minutes in it as you do in the Kusama.) Meow Wolf has created something that is as honest and unpretentious as a circus: you enter House of Eternal Return and you know you're going into pretendworld. There's no fakery to the fakery. Whereas Kusama and the MFAH would have us buy into the smoke and mirrors and believe that it's something transcendent, even when our own eyes tell us otherwise.
The artists of Meow Wolf, living out in weird old New Mexico, were never going to succeed in the art world as we know it, even in the little slice of it that exists in Santa Fe. So they've gone out and made their own success, and in doing so, they've created something new. It won't be the only model for making art and succeeding outside the art world, but it's a vital glimpse of a path forward for art.
This is the second in a series on immersion art. Part one, on Yayoi Kusama at the MFAH, is here.