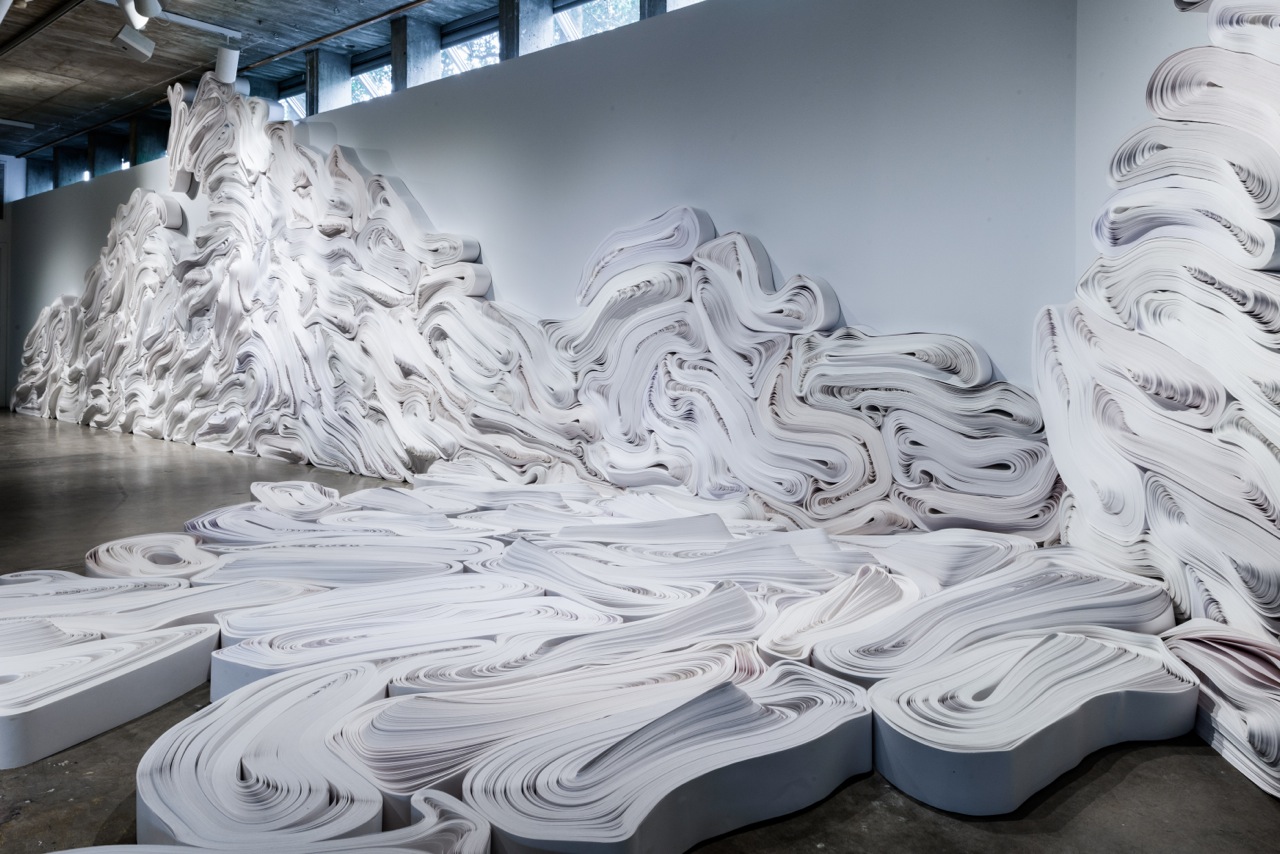 Getting to Jae Ko's flow, which debuted downstairs at the CAMH in June and is open through most of September, you have to pass through the Mark Flood show upstairs. It's an unsettling juxtaposition. The noise of Flood's work, the explicitness of the arguments, don't prepare you at all for Ko's, which seems almost too polite, too quiet, in contrast. It takes a while for your eyes and mood to adjust.
Flow is the latest site-specific, room-sized installation in the Korean-born Ko's series Forces of Nature. Trained as a graphic designer, she's been doing similar ones for the last few years, describing herself as having become obsessed with paper. Each installment is slightly different, though Ko uses the same material—large rolls of recycled paper meant for commercial adding machines. (If you're into this sort of thing, you can watch her install other iterations at Grounds for Sculpture in New Jersey or The Phillips Collection in Philadelphia.) As she describes it, she's "drawing with a line," manipulating the rolls to create liquid shapes, swirls and eddies, as she piles, stacks, and bends the rolls in heaps bracketed in place against the wall and floor.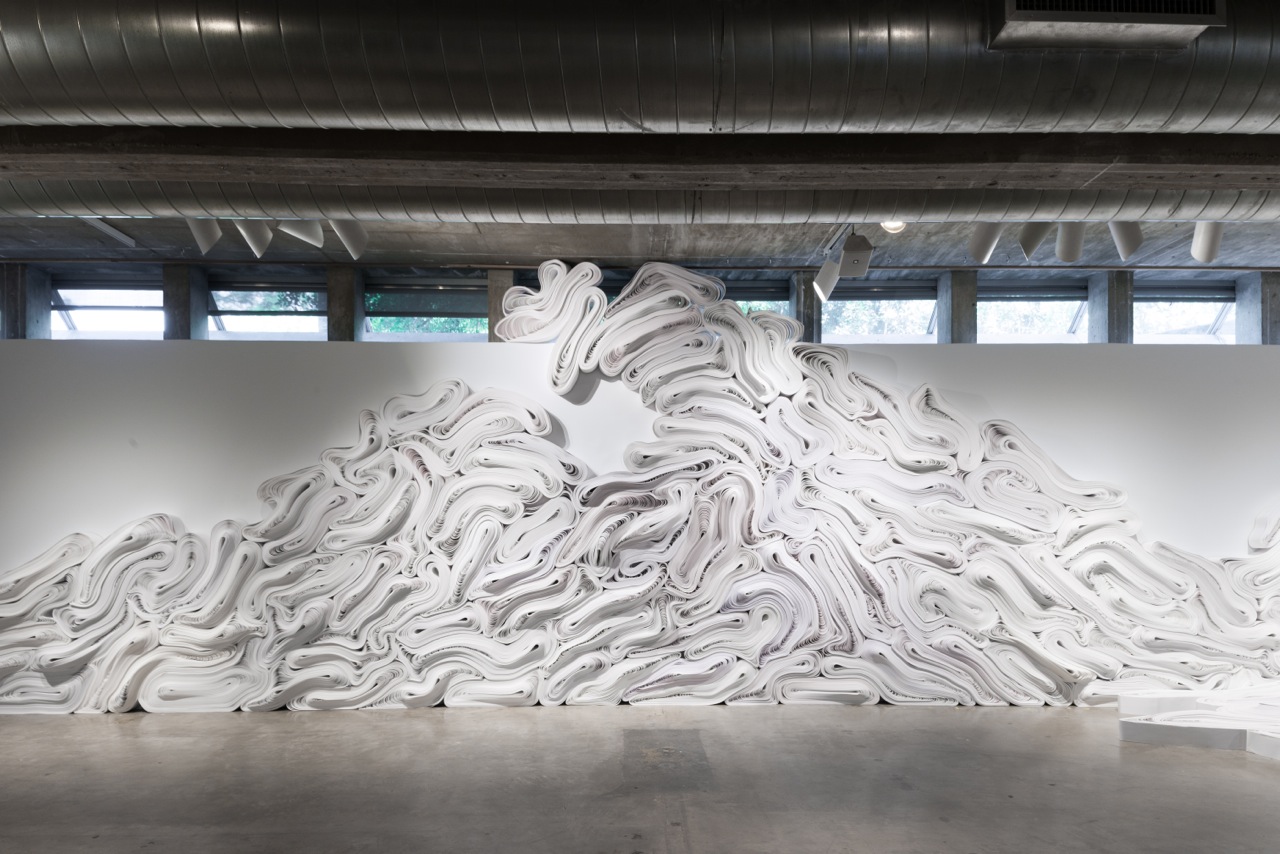 Flow, Ko says, inspired by a road trip to the Arctic Circle, "emulates the slow movements and process through which glaciers evolve." Press materials state: "Ko reconstructs the melting Tundra," and evokes "topography." The undulating whiteness of the paper rolls certainly calls all this to mind, but the vaguely environmentalist double entendre of recycled paper mimicking glaciers—there's got to be something there about climate change, right?—isn't quite convincing as a political argument. Besides, I didn't think of glaciers, at first, so much as joint compound or spackle—the raw interior of Gunnar Birkerts's building made the rolls look like the smears from a finisher's trowel. The concrete floor, columns and walls, and HVAC system of the Zilkha Gallery seemed just as artful. In this sense flow was just one more building material holding the CAMH up.
Getting closer, though, moving inside and around the installation, I started to understand it differently. Flow started to seem less mimetic of some placeless "Tundra" and more a landscape in its own right. Its presence as a material—the knowledge that this entity is made of paper—began to dissolve, and I started seeing things. It started to seem creepy, too, the way it crawls across the floor, up the wall, and slumps on the ledge at the top of the space, as though it's poised to seep out the window and take over the neighborhood.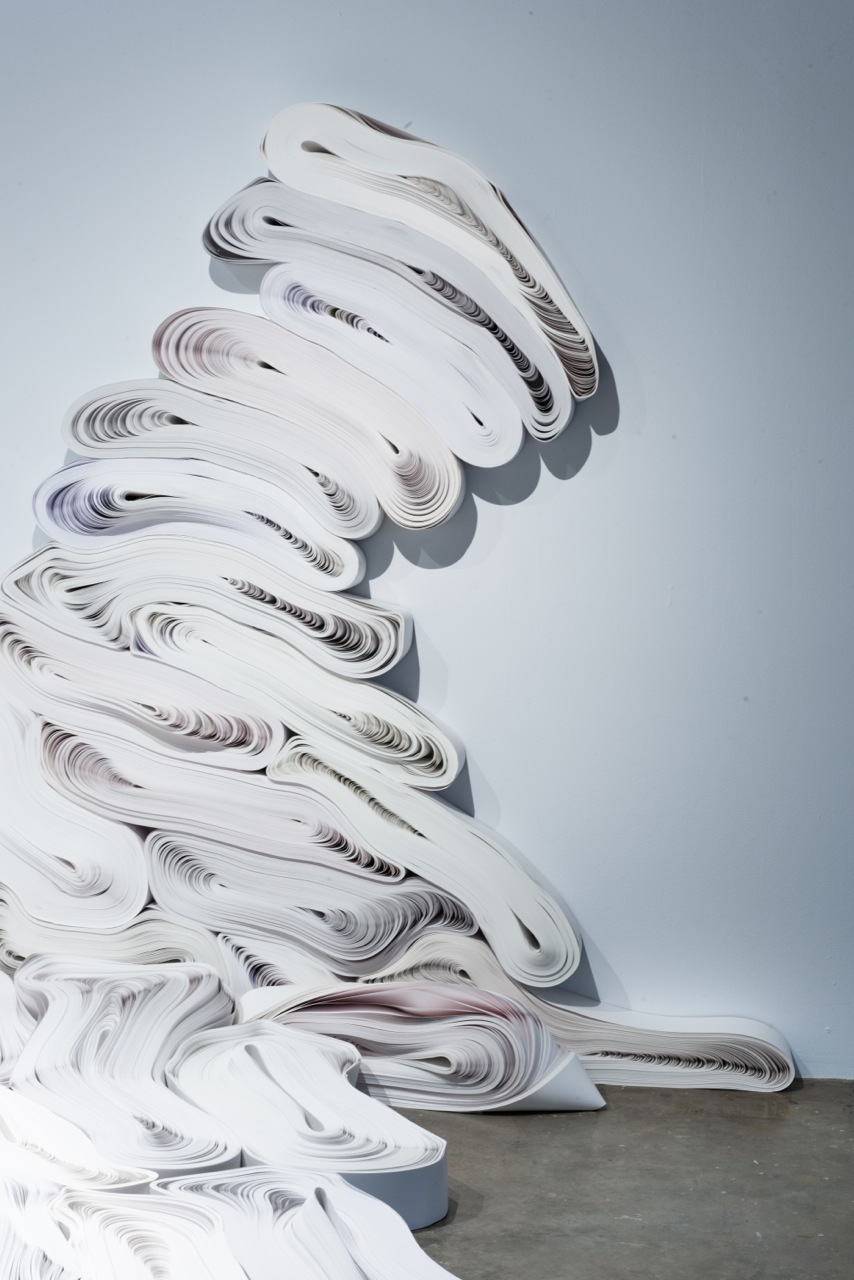 It's weird that something so inert and so quiet can be so thrilling. Like a landscape, flow rewards a variety of vantage points. You can stand back from it and try to take it in, or you can enter it. But you can't see all of it all at once. You admire its moments of beauty and balance, as the piles threaten to topple and cascade. And then, of course, you're bored by its moments of banality. The monotony of the whiteness, the repetition of the shapes, seems numbing—or meditative, depending on your disposition.
My disposition can't decide. For me, the piece was about the ways we interpret landscapes, and, by extension, the idea of "nature." Do we see "nature" as something "out there" that we take road trips to witness, something untouched that exists for our viewing pleasure? Is "nature" something we worry about from afar? Or is it something we construct? Like a landscape, flow troubles the distinction. It achieves the doubleness of being both foreground and background. Which makes it difficult to talk about or to summarize, or to draw conclusions from.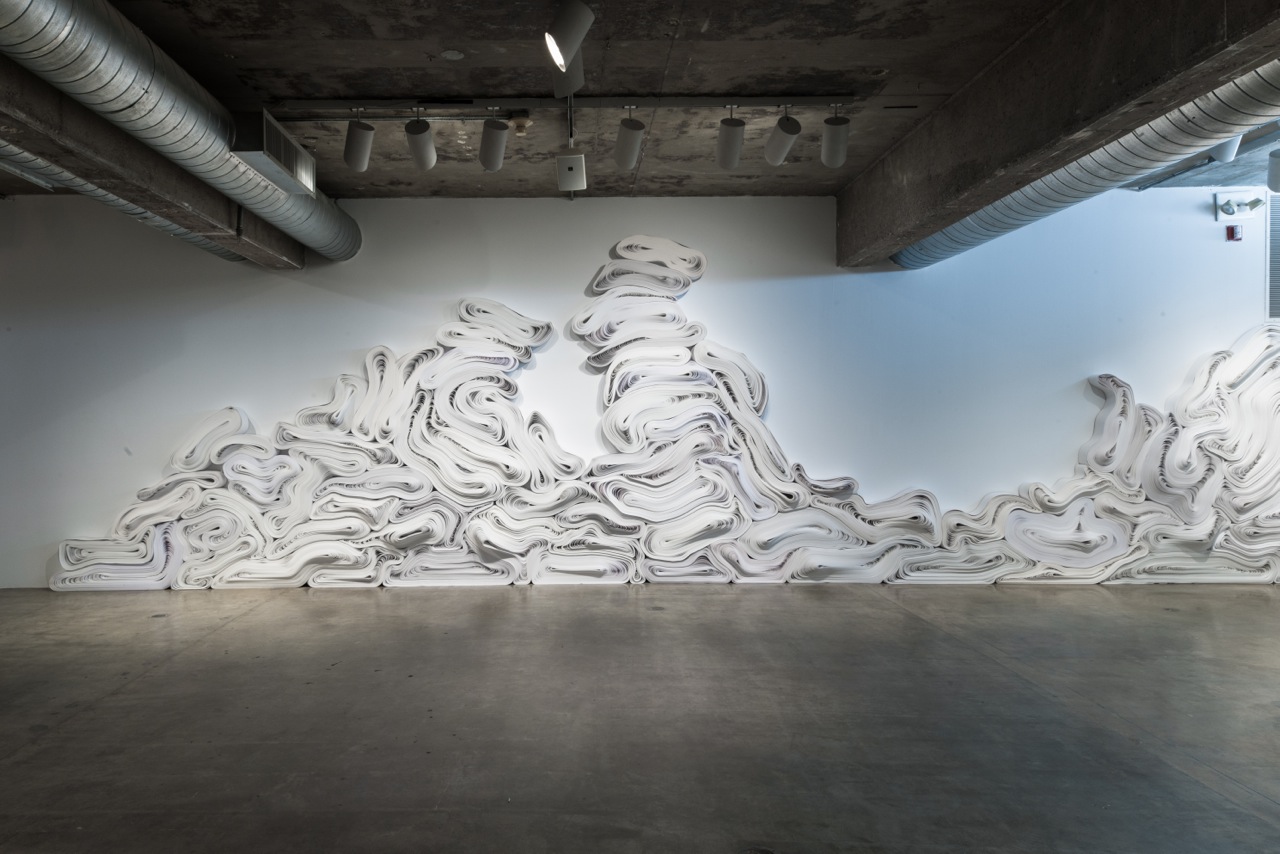 I think of the attempts I've seen to capture other landscapes—Buffalo Bayou Park, for example. Some people zoom in on the wildflowers. Some people stand on the pedestrian bridges and get a wide shot of the silt-filled water. Sometimes, the shots are pretty. Sometimes, they're not. But they don't tell the story. They can't. As flow makes plain, for better or worse, a landscape is larger than a single photo, a single angle, or a single point of view.