"Rainbow in the Dark" was on heavy-metal band Dio's first album Holy Diver. Released in 1983, "Rainbow in the Dark" was and is a mega-success with one strange music video. Ronnie James Dio, the amazing frontman of Dio, is credited to popularizing the "metal horns" hand gesture in metal culture. He passed away at Houston's MD Anderson Cancer Center in 2010 after being diagnosed with stomach cancer.
SF Gate columnist Mark Morford on Ronnie James Dio: "RJD was pretty much heavy metal personified, a tiny 5-foot-4-inch sorcerer with a mangy mane, demonic eyes and sly grin, all coupled to a simply huge, operatic voice, a diminutive powerhouse who prowled the stage like a feline elf and who was, it turns out, also finely intelligent and well spoken, an actual gentleman in a genre known all too well for its bombastic, monosyllabic doltbuckets. A rare thing indeed."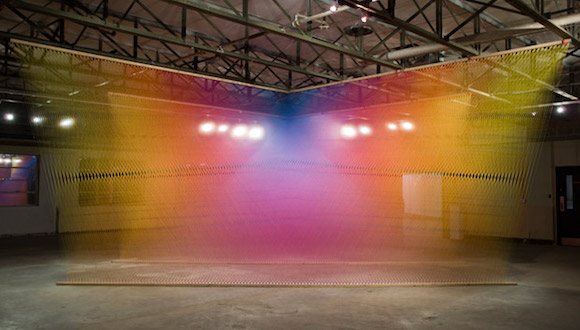 In other rainbow news, Gabriel Dawe is creating an installation using 60 miles of thread in the Atrium of the Amon Carter Museum of American Art. Dawe's intent is to "materialize light, to give it density, so that I can offer the viewer an approximation of things otherwise inaccessible to us—a glimmer of hope that brings us closer to the transcendent,"
I think the great wizard of metal would approve.