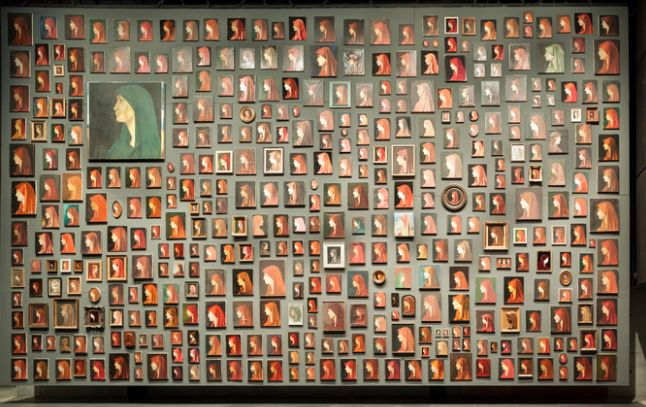 The Fabiola Project at the Menil's Byzantine Chapel is a collection of amateur paintings of Saint Fabiola, a 4th-century Roman Mother Teresa-type, assembled by the relational art superstar Francis Alÿs. Alÿs has lived in Mexico since the late '80s and his work consists mostly of elaborate Surrealist theater mounted in order to perform and record symbolic but inconsequential actions that take place in Mexico, Afghanistan and other parts of the world where the daily threat of guns, bombs and economic deprivation is palpable.
He has filmed children playing games and flying kites in Kabul as black helicopters hover overhead. In The Silence of Ani he recruits young kids to imitate birdcalls in the ruins of the ancient city of Ani on the Turkish/Armenian border until "the birds return to Ani." The works' gauzy, poetic ambitions run up against their politically fraught locations, imbuing them with political tension and more than a whiff of white man's burden.
The story of the Fabiolas paintings—well-rehearsed with curator Lynn Cooke throughout the collection's various iterations at unconventional venues since 1994—is that Alÿs' original intention to create a flea-market collection of "original" copies of masterworks morphed into a collection of Fabiolas. Turns out, there's a lot of Fabiolas floating around the world, all based on a highly reproduced but lost painting by Jean-Jacques Henner. Alÿs' collection grew to over 300 copies rendered mostly in paint but sometimes in unconventional materials.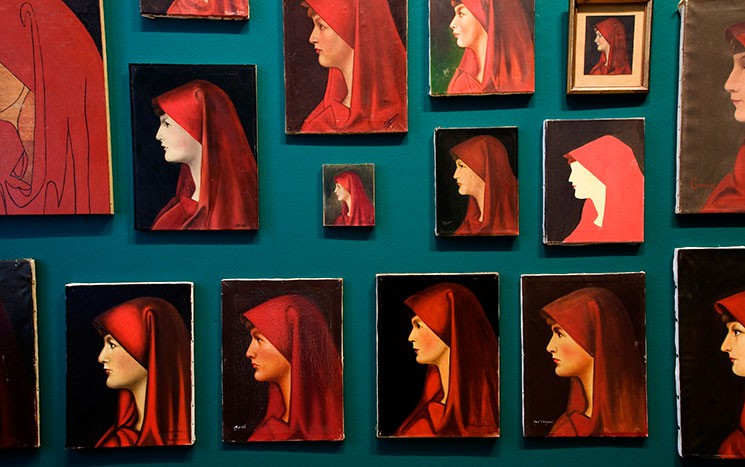 The installation in the chapel is somber. The paintings are mounted in a crowded grid across one wall in a darkened room. I'm not exactly receptive to this kind of thing. Churches and churchey art made after the 17th century make me nervous. The first question I ask myself in these kinds of installations is whether the artist believes their own hype. Rothko did. I'm pretty sure Alÿs doesn't. There's a Duchampian nihilism behind it all. Cooke says as much when she writes that the collection takes the "copy as its founding precept" and "privileges the copy over the original."
When taken to their logical political ends, these kinds of projects model the loss of the individual, privileging anonymity within collectivity. But they almost always do so under the orchestration of the individual—in this case a well-paid international artist. In When Faith Moves Mountains, Alÿs persuaded 500 Peruvian students, before the collapse of the conservative Alberto Fujimori government, to march up a sand dune shoveling dirt as they walked thereby "displacing" the dune. The Tate's encapsulation of the work states that for Alÿs it was essential that the students gave their time and effort for free to stand in contrast to Fujimori's neoliberal "principles of efficiency and production." You can be sure Alÿs' time and effort was funded.
On the artist's website a video of a performance in which Alÿs meticulously repaints sixty yellow median strips in the former American Panama Canal Zone as bemused locals sit around and watch him is described as a gesture in which "wielding the brush became an act of healing in a traumatized territory." Enlightened as we are to the various horrors we regularly visit on each other, and the complicity of the international art market in them, I wonder if we can allow ourselves to buy these purple gestures from artists anymore? I sometimes want to like this stuff, but the line between poetic rhetoric and bullshit is just too fuzzy.
How you feel about these projects likely determines how you feel about the Fabiola Project and most relational art generally. For me much of Alÿs' work too closely models an authoritarian dynamic that frustrates its professed egalitarian aims. Down the street from the chapel, in the Menil proper, the Stephanie and John Smither Collection of self-taught art represents a much more egalitarian form of collecting that supports and credits amateur artists through the purchase and exhibition of their work. The Fabiola painters and the volunteers in Alÿs' actions remain anonymous while Alÿs expresses his individuality by posing moodily in the pages of Vogue and collecting commission checks. I don't mind artists getting rich. But when they do it through unpaid human capital in the name of compassion and revolution I can't help but remain skeptical.
On view through Jan, 2018 at the Menil's Byzantine Fresco Chapel, Houston.