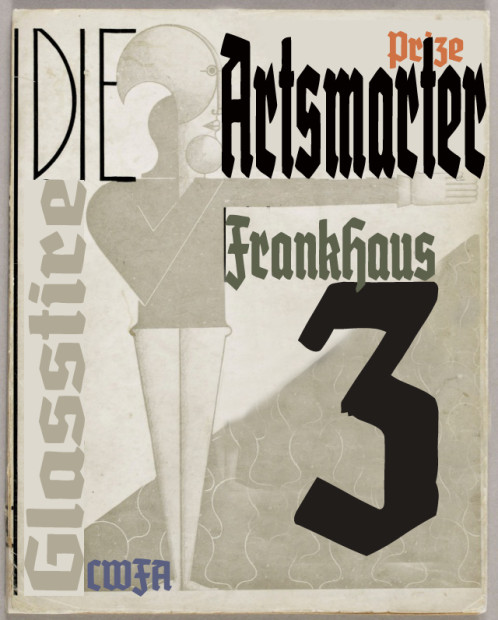 A message to you all from Frank Artsmarter:
"What if you create an art prize that mimics another failed (or postponed) prize—which is itself based on yet another prix of dubious distinction—and still you fail? This is the fodder of conversation around the opaque gesture of me, Frank Artsmarter, and of the ArtSmarter Prize, an odd attempt at satire that has turned into a vapid distraction for a once-reputable online publication that lost its damn mind and allowed a dubious artist to use it as a platform to describe his own frustration with art prizes. 
The confusing intermittent video posts around the theme "what would you do for love?" has been a jumble of wtf, with a pinch of whaa?! Until now. 
Presenting the actual ArtSmarter Prize event! A one-night exhibition/auction/trophy give-away, at Cris Worley Fine Arts (Dallas), held on Friday, June 3 from 7-9 p.m. 
18 Texas-based artists (selected from a pool of cronies and confusing other applicants), scoffed at by many, will present the videos, paintings and other media to a weary and confused audience on the evening, along with booze of course. Artworks are up for silent auction with starting bids at around 50 cents. (That cents.) [see below] Each artist will receive 100% of the proceeds from his or her sale. During the silent auction, Frank and his guest jurors Cris Worley and Danette Dufilho will deliberate on the entries and finally award the ArtSmarter Prize." 
Ed. note: Alas, we did not know what we were getting into. But we like the artworks and the video conversations, so we're not really complaining.
Three categories follow:
First, the ArtSmarter Prize video entries answering the thematic question What would you do for love?:
Ryder Richards (this video will be up for auction):
Chuck & George (up for auction):
Sally Glass (up for auction):
Jon Clyde Von MacMeyerneau (up for auction):
Jamie Panzer:
Rachel Livedalen (up for auction):
Justin Ginsberg (three videos):
Conversations with artists about what they would do for love.
Liz Trosper:
Annette Lawrence:
Lauren Smart:
Erin Stafford:
Sally Glass:
Physical artworks by artist and art critics who've created works for auction:
Gaile Robinson:
Lauren Smart (two works; we present them here front and back):
Liz Trosper: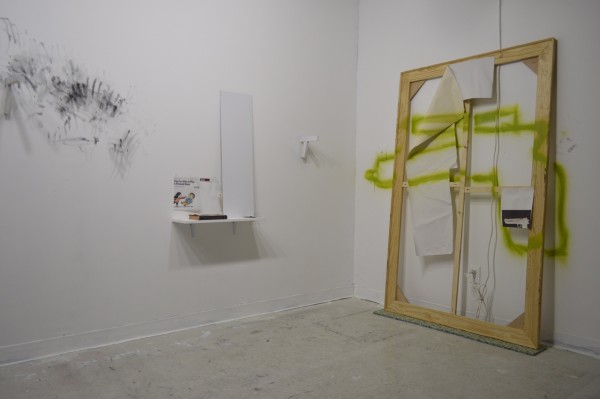 Robert Jackson Harrington:
Shelby David Meier:
Nick Bontrager:
Kristen Cochran (three-part text piece; here is part one):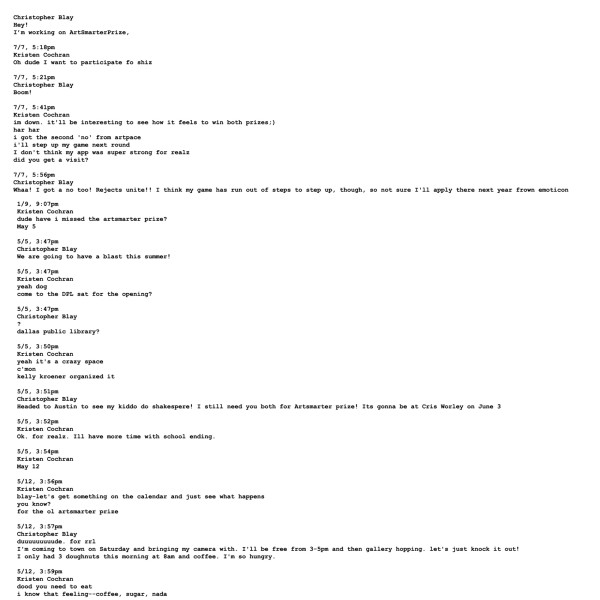 Erin Stafford: