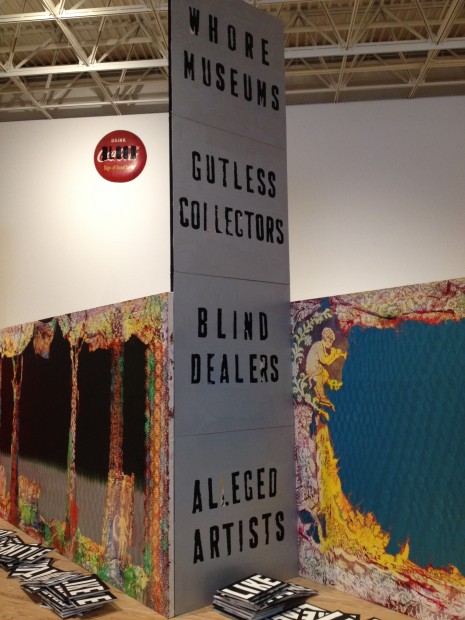 Mark Flood's survey at the CAMH is critic proof. When I walked through it I felt like I was sitting at the dinner table with a 14-year-old boy who rolls his eyes at everything anyone says. Just total disdain for the audience. It's a hateful show. I was occasionally entertained by it, because I've always had a thing for punk, but on the whole totally depressed by it. It's mostly schtick at this point, and that's a depressing thing for art to be, and to be valued for.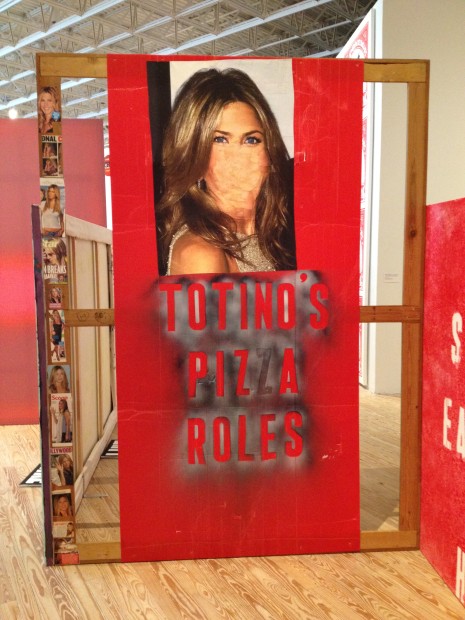 This local hero of the (local and not-so-local) anti-establishment who's so happy to burp in the face of collectors and curators doesn't have many cards to play: that's clear now. But one card that seems to work for him—the thing he relies on most for this show—is the S&M nature of some art enthusiasts, including some collectors, who pay to have an artist piss in their mouth. This is fun to watch for about 22 seconds before it gets old, and also: you expect the artist must be really young to love doing it. Flood isn't a spring chicken. We know he's been punk for a very long time, long past punk's shelf life. So here's the problem. I don't believe him anymore. Does he even believe himself? The survey is a double-edged joke. At whose expense? Bill Arning's? The unbelievability of the schtick is also a depressing thing for a retrospective to deal with.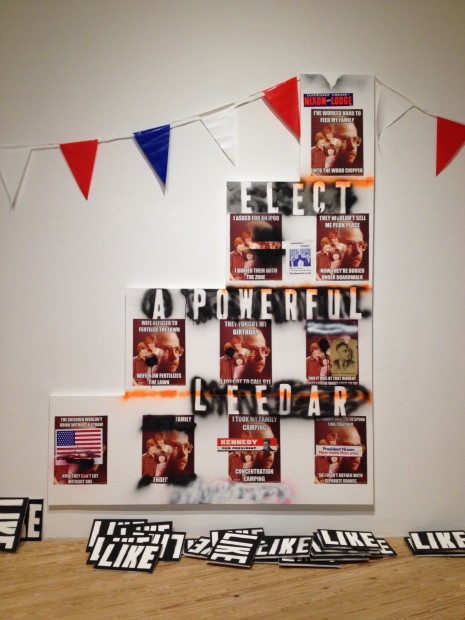 Which in itself is kind of interesting, but probably not for the reasons Flood would like to believe. There is a phenomenon going on here—a social one—and it has less to do with art, or with Flood as an artist, and more to do with the degraded nature of what we accept as entertainment or authority in art. Houston loves Flood for some very sound reasons. He's been around the block, his unpleasantness is no act, he churns it out, he plays Svengali to other artists, sometimes New York pays attention to him. Flood is a real artist, in a way few in Texas can claim. His rigor is mostly in his longevity.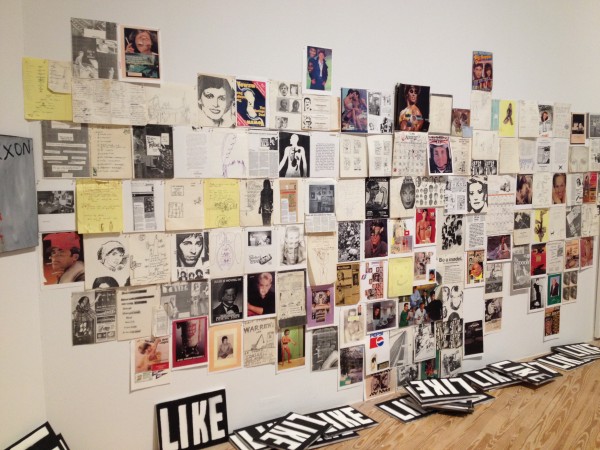 But the survey feels lazy, and like an afterthought. I suppose people can show up and marvel at what a bad boy he is, but I liked Flood's work a lot more before I saw this show. Now I see how limited and stunted the work can feel. I thought his work was smart and sharp and funny. I think at one point it really was. Now it just seems depressed or beyond any measure of cynical. This may be because it's in an institution, which is the kind of thing he's always scorned. I don't know if the museum castrates the work, exactly, but I know that I'd rather not see Johnny Rotten hanging out in Aspen.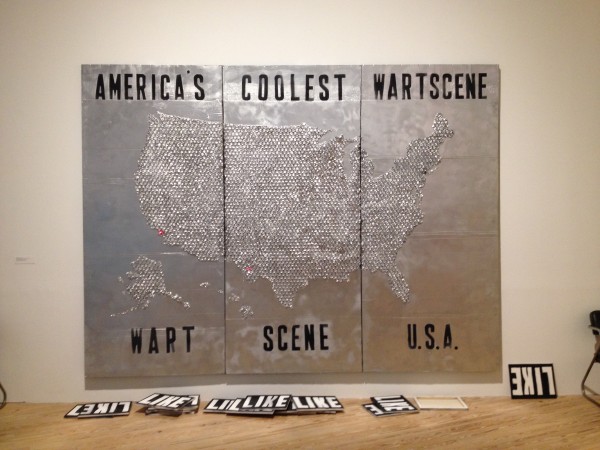 Flood's obsession with addressing the art market is boring and juvenile. And more: he's probably not even obsessed with it. He's just playing at it. Surely he knows that other artists—including most all successful and semi-successful ones—have stared straight into the gaping black maw of capitalism (and the runaway art market) and felt utter despair. And yet they make art. To be disdainful of a market's absurdity is a fine enough subject for art, but does Flood have to be so flat-footed about it?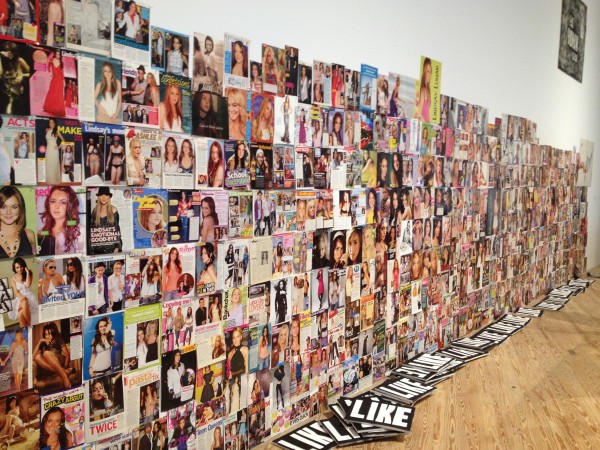 In Flood's nihilism—his trolling, if you will—there's no room for the things we associate with art. There's no inquiry, no interrogation, no negotiation, no possibility. Flood's work is all branded now, and I think when he came to understand that's where the money is, he drained himself of any other impulse. And evidently some collectors never ask the hard questions, so the loop closed, and now it's just a hermetically sealed pornhub clip of an artist pissing in a collector's mouth, while the rest of us get bored and click to the next video.
The thing is, I don't think Flood cares. Or I think he would say: I meant for it to turn out this way. I meant to bore and depress you.
Whether that's true or not.
And so that's 703 more words than this show asks from me or anyone else.
Mark Flood: Gratest Hits is at the Contemporary Arts Museum Houston through Aug. 7