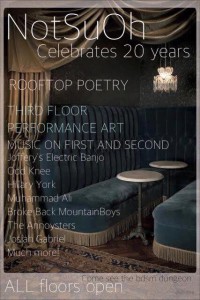 This evening, Notsuoh, the legendary Houston performance venue/art gallery/life project of Jim Pirtle, will be celebrating its 20th anniversary. The lineup for tonight's festivities includes rooftop poetry, performance art, and music on the building's first and second floors. This is a rare chance to see the entirety of Notsuoh in all its glory; all its floors will be open to the public!
The venue has long been a gathering place for Houston's art scene, hosting programs for both insider and visiting artists. Recently, Notsuoh has been the mainstay of monthly Performance Art Nights, organized by Performance ART Houston.
Bands playing tonight include Joffery's Electric Banjo, Odd Knee, Hillary York, Muhammad Ali, Broke Back MountainBoys, The Annoysters, and Josiah Gabriel, among others. Performance artists participating in tonight's event include many of the usual Houston suspects: Evan McCarley, Jana Whatley, Julia Claire, Sandy Ewen, and John Zambrano, among others.