Two Austin artspaces have taken the term "micro-residency" to the extreme: Big Medium and Co-Lab Projects have recently been running Instagram-based residency programs in which artists take over the organization's social media account for a month and post images of their art and daily life. Due to the digital nature of the program, the organizations have been able to get both national and international artists into the "residency."
Big Medium's residency (@bigmediumres) began in September of 2014 and has hosted a number of artists, including Jeffrey Dell, Michael Anthony Garcia, Sarah Elizabeth Stevens, and Laure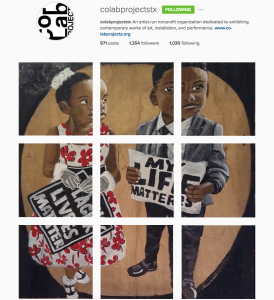 n Moya Ford. Their current resident, Annie McLaughlin, is based out of Portland, Oregon and is currently using the account to chronicle her trip around L.A.'s art scene.
Co-Lab Projects' #bitres has been running on and off for more than two years. The concept for the project came from Austin-based artist Sean Ripple who took over Co-Lab's Instagram account in February of 2014. Current #bitres resident Lakeem Wilson has taken a different approach to Instagram's platform—he has used multiple images posted in a sequential order to create mural-like tableaux.
Online exhibitions are nothing new. One of the most prolific collections of online exhibitions is the New Museum's First Look: New Art Online. Coupled with Google Art Project, these new digital collections make it, for better or worse, that you never have to leave your home to see art.