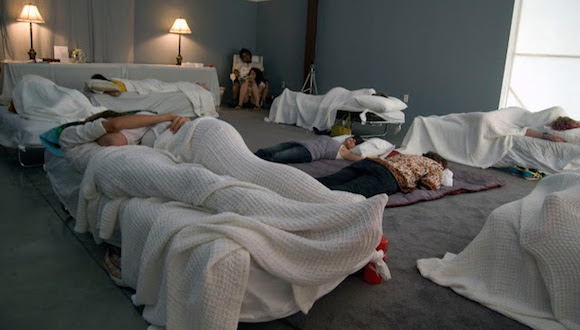 In conjunction with the current exhibition at Project Row Houses, Charge (Jennie Ash and Carrie Schneider) is hosting a two-day presentation of Re-Charge: A Nap Around the Table by Houston-based artist (and recent Top 5 guest star) Emily Sloan. Sloan first exhibited Napping Affects Performance (NAP) at Art League Houston in May 2010—since then, she founded the Southern Naptist Convention, performed naptisms, and has dedicated her life to going to sleep.
This weekend's program is designed to provide something so rare and precious in our media-filled world: a place to step away from devices, close your eyes, and sleep your fears away. While Charge will provide eye coverings, earplugs, and cots, BYO yoga mats and sleeping bags are welcome. If you feel like reliving your childhood, Dannie Walker will be singing lullabies today, April 16, at 2pm.
Additionally, on April 17 at 12:30pm, Satmitar Khalsa will host a "gong bath," presumably bathing participants with sound to cleanse their souls of bad spirits (or, maybe not. Does anyone know the purpose of a gong bath?)
Re-Charge: A Nap Around the Table is "on view" April 16 and 17 from 12-5pm. For more information, go here.