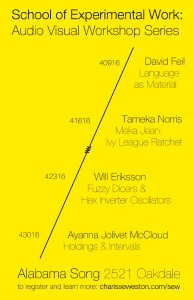 Today, April 9, Houston artist-run space Alabama Song and artist Charisse Weston will co-host the first event in their School of Experimental Work: Audio Visual Workshop Series. The series is open to the public, (with a materials fee of $20), and is designed to educate emerging artists in the fields of animation, sound art, and other ways of creating using technology. Events for the series include:
April 9 at 3PM: Language as Material with David Feil—a workshop exploring various methods of creating text-based works.
April 16 at 3PM: Meka Jean: Ivy League Ratchet featuring a lecture and performance by Tameka Norris.
April 23 at 4PM: Fuzzy Dicers & Hex Inverter Oscillators featuring a circuit building workshop with Will Eriksson.
April 30 at 3PM: Holdings & Intervals, a sound installation and reading with Ayanna Jolivet McCloud.
The series of talks and workshops is made possible through a grant from Art League Houston's 2014 Charge event as well as through the Santo Foundation.