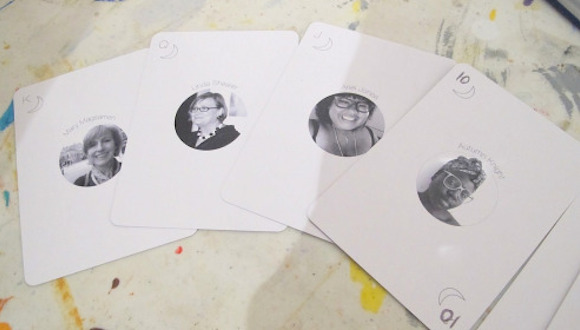 Last Sunday, Art League Houston announced that the 2016 Charge Grant awardees are Houston artists Autumn Knight and Monica Villarreal, for their project Made of Star Stuff: A Documentary Mapping Women Creatives in Houston. The $1,100 grant was raised through Charge's $10 registration fee and proposals were open to all Charge participants. The only requirement for the grant is that that the project be "inspired by something heard, talked about or felt at Charge."
Knight and Villarreal were presenters at Charge, hosting an interactive gin rummy game that included a customized deck of cards featuring names and faces of 52 women creatives. The pair will use this grant to expand and continue this concept—they plan to create a documentary highlighting women creatives in Houston. Additionally, the project will include more community gatherings and the production of an additional customized card deck.
Last year's Charge grant raised $889 and was matched by The Heimbinder Family Foundation and artist Dario Robleto. Two projects tied for the grant: DYKON FAGATRON by Anna Elise Johnson and The School of Experimental Work: Audio-Visual series by Charisse Weston.
To see the other proposals for the 2016 Charge grant, go here.