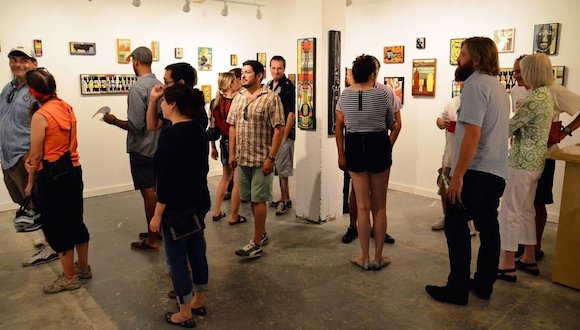 This March, San Antonio artist-run gallery Hello Studio will be celebrating its fifth anniversary with a move to the upstairs of the Blue Star complex. The newly renovated 1,500-square-foot building will house an 800-square-foot gallery, as well as three studios—one for each of Hello Studio's co-directors, Amada Miller and Taylor Bates, as well as a studio for the gallery's new residency program.
Open to Texas artists, the two-month residency will provide free studio space and culminate in a month-long exhibition in Hello Studio's gallery. Reportedly, the space is looking for artists who believe a "supportive community in San Antonio, Texas will be particularly meaningful and transformative to their practice." Perhaps introducing fresh faces into the San Antonio art scene could smooth over some of the current uneasy relationships in the city. This program offers new chances for collaboration between San Antonio organizations—housing, travel, and other expenses will not be covered by the gallery. Hello Studio will, however, assist the artist in finding alternative means of funding.
The new Hello Studio will open on March 4th with an exhibition by T. Hopkins, the gallery's first resident artist. For more info on the show, go here.