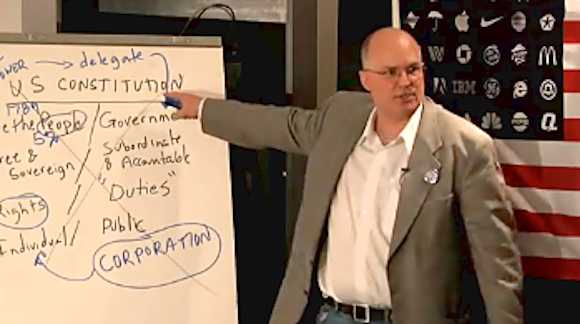 Private museums have certain advantages. Let's face it—most museums can't afford to unambiguously implicate big donors no matter how hard they try to adhere to the principles of freedom of expression. Houston's Station Museum's mission to organize "exhibitions that question our society's morality and ethics" means that it puts on some pretty political shows without pussyfooting around.
The current group exhibition, Corpocracy (which has been extended until March 13), is no exception. In conjunction with the show, the Station will present Move to Amend's co-founder, attorney and activist David Cobb, with a free lecture entitled "Legalize Democracy" on Friday, February 26 at 6pm. Move to Amend's website leads with the following statement (and a petition, of course):
We, the People of the United States of America, reject the U.S. Supreme Court's ruling in Citizens United and other related cases, and move to amend our Constitution to firmly establish that money is not speech, and that human beings, not corporations, are persons entitled to constitutional rights.
The Station promises that Cobb's presentations are "part history lesson and part heart-felt call-to-action."