The second annual OUTsider Art Festival starts tomorrow, February 17th, runs through the 21st, and is packed with performance and visual art events at held Salvage Vanguard Theater and several other venues. OUTsider's mission is to unite "queer artists, audiences and scholars from around the globe to exchange ideas, ignite conversations, transcend boundaries and experience new pleasures through artistic discovery."
OUTsider will present its Legacy Award to erotic icon and educator Annie Sprinkle and her partner, ecological sex ("eco-sex") artist Beth Stephens (They will also be performing). OUTsider is also a conference and has set up a series of panel discussions called "Conference on the Couch!" Okay, its more of a salon-style discussion in someone's living room.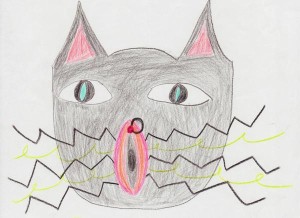 Other artists include Oakland-based artist La Chica Boom and renowned Chicana performance artist Nao Bustamante (fans of Bravo's "Work of Art: The Next Great Artist" will recognize her as a very unlikely contestant on the show). At tomorrow night's opening, Shannon O'Malley and Keith Wilson will present the exhibition "Gay Men Draw Vaginas." To view the full schedule, go here.