On Wednesday, the new Houston city council met and complained about having to pay to the artist Ed Wilson for his public artwork* in the George R. Brown Convention Center, voting to shift funds around in byzantine budget accounts, which could possibly result in a delay in payment to the artist.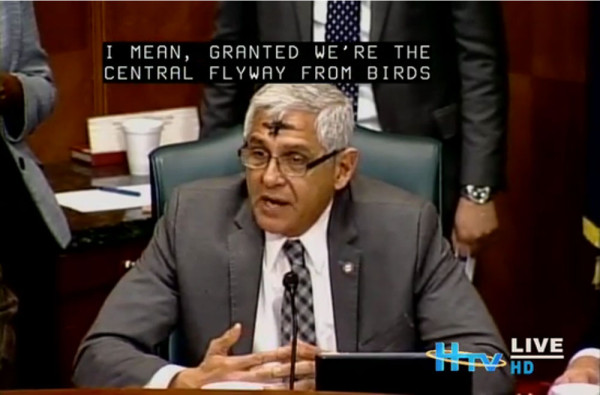 Sporting an impressively large Ash Wednesday cross on his forehead (no modest Joe Biden-style thumb smudge here), Council Member Robert Gallegos complained that Wilson's piece was about bird migration, and really, who gives a damn about birds?
"I mean granted, we're the central flyway for birds coming from Canada. But we're not unique as a part of the nation with bird migration. What we are unique is that Houston has two international airports now serving the Americas. What we are unique is that the Port of Houston is the first in the US in foreign trade for 18 consecutive years," Gallegos said, before launching into a string of statistics about freight from various Latin American countries.
Gallegos forgot to mention cities like New York, Chicago, Los Angeles, Philadelphia, Washington, San Francisco, Miami, Tampa, and Orlando, which all have at least two international airports serving the Americas, and that, while the Port of Houston is the largest in the nation for foreign trade by tonnage of cargo, it's third for the value of cargo.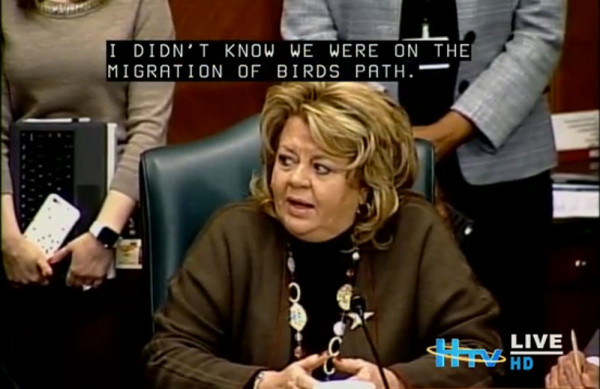 Council Member Benda Stardig concurred, saying "We are a space city and when y'all handed off the football from space, I was like, thank you."
For their part, we're guessing that Houston Arts Alliance officials are either hiding under their desks or surfing the web for job listings in other cities, while Houston artists, the only people in town who really know anything about any of this, are collectively staring into the middle distance, struggling to process the exercise in despair that is making public art in this city.
Addendum 2/16/16: Glasstire contacted the artist Ed Wilson for comment today, and he informed us that his contract for this commission stipulates that all media inquiries about this project have to go through the communications department at HAA.
*Wilson's piece was at the center of a firestorm of drama in late 2014 when the Houston Arts Alliance awarded him the contract for the $830,000 commission, then rescinded the contract, then re-awarded him the commission.