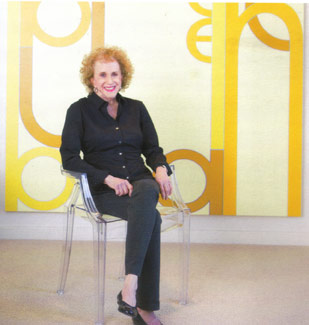 June Mattingly died Monday afternoon, February 1, at Baylor Hospital in Dallas, reports the Dallas Observer.
Mattingly was the owner and co-founder of the Mattingly Baker Gallery, an avid art collector, a staunch supporter of emerging artists, an arts journalist, and author of The State of the Art: Contemporary Artists in Texas. She started the Dallas Art Dealers Association (DADA) and was one of the founding members of Emergency Artists' Support League (EASL).
For more information on her incredible life and importance to the Dallas art community, read Michael Granberry's blog, published yesterday in The Dallas Morning News. The sense of loss is reiterated in the numerous posts to Mattingly's Facebook page in the past few days. Here is a small sampling:
She wasn't just an art collector. She was an art citizen. Relentlessly supportive and enthusiastic in the Dallas art world.
She will be missed, I could always count on seeing her at every one of my art shows. I loved how she wanted to try to help every artist she met.
Goodnight June Mattingly. Rest in Peace and thank you for everything.
Dear June, thank you for your dedication to the arts of Texas and for your friendship.
June had an enthusiasm for Texas art, an incredible knowledge of Dallas history, an appreciation for architecture, and a wealth of captivating and entertaining stories.
February begins with the passing of Dallas' own June Mattingly, noted former gallerist, collector, champion of emerging talent, author, to name a few things. Responsible for the successful careers of a handful of world renowned artists, her impeccable eye never went unnoticed.
This just breaks my heart. If there was anyone in Dallas who loved the arts, it was Dear June. She did so much for this city and for all of us.