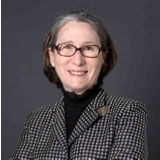 The Museum of Fine Arts, Houston (MFAH) announced that Katherine S. Howe, founding director of Rienzi, will retire at the end of June. Rienzi, the MFAH house museum for European decorative arts, is the former home of Houston philanthropists Carroll Sterling Masterson and Harris Masterson III. Opened to the public in 1999, Rienzi houses a substantial collection of European decorative arts, paintings, furnishings and porcelain, and an extensive holding of portrait miniatures.
Howe is not only the director of Rienzi, but started at the MFAH over 41 years ago as associate curator of the Bayou Bend Collection, not long after Ima Hogg gifted her house and collections to the MFAH and Bayou Bend opened as a public museum for American decorative arts and painting.
Howe received her graduate degree in 1971 at the Cooperstown Graduate Program, State University of New York, and joined the MFAH staff in 1975. "I have had the privilege of having many chapters of my career in a single, renowned institution," Howe commented.
That's a lot of MFAH history!