Following a career retrospective at the Museum of Modern Art and a lifetime achievement award at the Berlin International Film Festival, the travelling series Portraits From The Road celebrates the work of influential German filmmaker Wim Wenders with big-screen presentations of newly restored films made between the 1970s and '90s. The series includes Wenders' celebrated classics alongside his great and all-too-rarely shown early films. Three early films will be presented at the Museum of Fine Arts Houston in February, while the Austin Film Society is presenting a more extensive 11-film retrospective program beginning this week and continuing through February.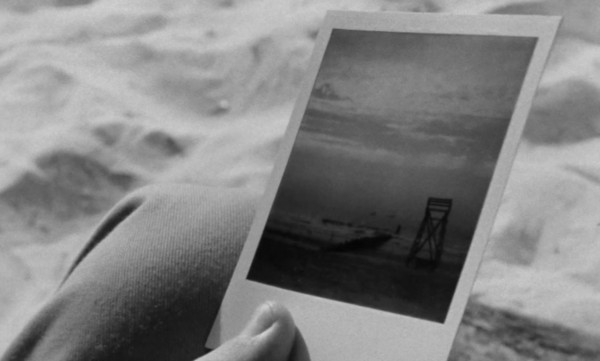 Portraits From The Road is a good frame for his work. For me, travels—especially road trips—tend to feel like cinematic experiences, and vise versa, because on the open road, time and space are simultaneously expanded and suspended. Our own stories, memories, and thoughts are distilled into free-floating fragments. Some of them fly out the window. We talk less. We notice different things, take different kinds of pictures. The familiar and the foreign, the real and the mythological all become intertwined. The structures that normally dominate our lives are lifted, and it's in this dream state that mundane reality and existential metaphor are leveled. That's a situation that I love, and a perspective I aspire to. Among the handful of influential travel and art experiences that have shaped this for me are films by Wim Wenders.
Many of Wenders' films are road movies, and all of them feel like it. They're often characterized by unhurried, tentative and fractured narratives populated by lost and restless travelers. This disconnection likely comes from the disillusionment and damaged sense of identity felt by Wenders' generation of post-war Germans, along with the early influence on the filmmaker of the naturalistic wanderings of French New Wave films, the lonely expansiveness of classic American Westerns, and the raw individual expressions of rock-and-roll music. Wenders and his films' characters are outsiders—at home nowhere, resigned to unlikely intersections and a suspension in times and places of transition. Related to this outside observer perspective, the films also often explore the nature of memory, the photographic image, and cinema itself.
The work of cinematographer Robby Müller, who beautifully lensed most of the films in the series, is of equal importance here. He and Wenders met in 1969 when the director was still in film school, and the two worked together in very close and unique collaboration on many feature films throughout the 1970s. The rarely shown films from that formative early period for the pair are illuminating predecessors to the visual sensibilities of later collaborations such as Paris, Texas and Until The End of The World (both included in the Austin presentations) as well as the phenomenal films that Müller shot with Jim Jarmusch (Down by Law, Mystery Train, Dead Man) and other directors including Alex Cox, William Friedkin, and Lars von Trier. With a keen outsider eye, a mastery of natural light, and a stubborn insistence on simple technical tools, Müller is in league with the great photographers and one of the under-recognized greats of modern cinema.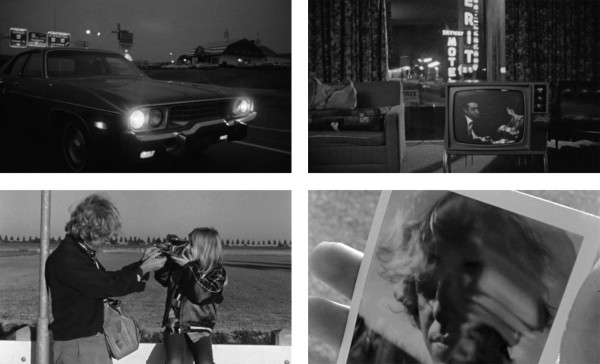 Besides Wenders' 1984 collaboration with writer Sam Shepard, Paris, Texas (my favorite), I'm especially fond of the two earlier films that most closely anticipate that film. Alice in the Cities (1974) and Kings of the Road (1976) are both shot by Robby Müller in stark black and white, both star actor Rüdiger Vogler as an alienated traveler paired with an unlikely companion, and both are considered important works of the New German Cinema movement in the 1970s. Alice In The Cities comprises two road trips. The first is in the United States as an aspiring journalist is on assignment to write about the American landscape but isn't able to make much sense of his series of drives, motel rooms, and Polaroid photos. "When you drive through America, something happens to you. The images you see change you." The second journey is in Germany after he has been roped into taking care of petulant young girl, Alice. With few clues, the two near-strangers travel from town to town in search of her grandmother.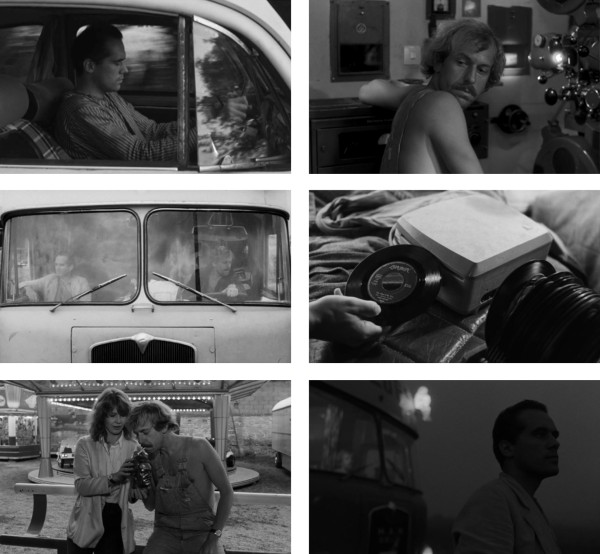 Kings of the Road is Wenders' great existential road movie, and his most improvised film. It began without a script but simply a small cast and crew, a van, and an itinerary of old movie houses in small towns along the West and East Germany border. What evolved along the way was a film about a lone, travelling cinema repairman and an unexpected passenger—a despondent man whom he calls "Kamikaze." With beautiful photography and nods to classic American movies, Kings is about men, solitude, intimacy, the malaise of post-war Germany, and the death of cinema.

Another highlight of the Austin presentation of the series is Wenders' rarely seen The State Of Things (1982) about a German director and international crew making a low-budget, post-apocalyptic sci-fi movie in Portugal that suddenly grinds to a halt when its money and film stock have run out. While the actors and crew (including legendary American writer/director Samuel Fuller cast as the film's cinematographer) are stranded and restless, the director travels to Los Angeles to find the film's producer on the run from loan sharks. This and Wenders' most celebrated film, Wings of Desire (1988), are among the few in the series that were not shot by Robby Müller but rather by great cinematographer Henri Alekan, whose career began in the 1940s with such films as René Clément's La Bataille du Rail and Jean Cocteau's fable La Belle et la Bête. The black and white photography in The State of Things is striking, while its minimal, droning synth score by Jürgen Knieper creates a unique tone blending its real and science-fiction worlds.
I should say that these films are slow, quiet, and some of them are quite long. Wenders' generous allowance of time and space and his hesitance to fully materialize narratives is intentional and essential, encouraging the viewer to reside inside the films rather than simply watch them. I know the resignation may be a little difficult at first for 21st century attention spans, but I recommend taking some time out for at least a couple of these trips through ancient/alternate cinematic worlds of open roads, silent gestures, payphones, Polaroids, radios, reels, and turning wheels. I especially encourage those of you who are photographers, filmmakers, and video artists to take advantage of the opportunity to see these films restored and on the big screen, and to steal liberally from them.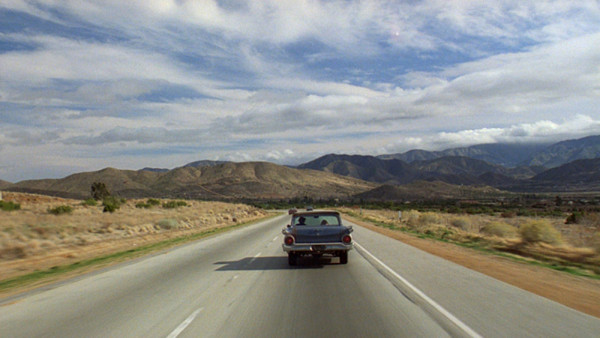 Wim Wenders: Portraits Along The Road
Austin Film Society  Jan. 3- Feb. 28 (11 films)
THE GOALIE'S ANXIETY AT THE PENALTY KICK (1972)    Sun, January 3
ALICE IN THE CITIES (1974)                        Sun, January 10
WRONG MOVE (1975)                                   Friday, January 15
KINGS OF THE ROAD (1976)                        Fri, January 22 / Sun, January 24
THE AMERICAN FRIEND (1977)                   Fri, January 29 / Sun, January 31
THE STATE OF THINGS (1982)                   Tues, February 2
PARIS, TEXAS (1984)                                      Fri, February 5 / Sun, February 7
TOKYO-GA (1985)                                           Tues, February 9
WINGS OF DESIRE (1987)                              Fri, February 12 / Sun, February 14
UNTIL THE END OF THE WORLD (1991)      Sun, February 21
BUENA VISTA SOCIAL CLUB (1999)             Fri, February 26 / Sun, February 28
Museum Of Fine Arts, Houston  Feb. 5-20 (3 films)
ALICE IN THE CITIES (1974)                         Friday, February 5
WRONG MOVE (1975)                                    Friday, February 12
KINGS OF THE ROAD (1976)                        Saturday, February 20